Father's Day: Best Gifts For New Dads
Show your appreciation by giving him a gift he will cherish.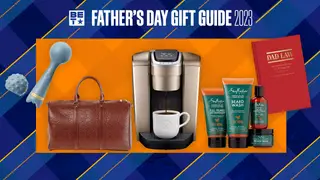 Becoming a father for the first time is an extraordinary and life-changing moment in any man's life. The arrival of a new baby brings about a new routine and role for first-time dads, filled with diaper changes, early morning feedings, pre-bedtime baths, and countless other tasks to keep up with. 
As Father's Day approaches, it's the perfect opportunity to show your appreciation for the new dad in your life. Whether he's your partner, son or friend, there's nothing like a thoughtful gift to make him feel loved and valued. Here are some gift ideas that are sure to make his day.
Keurig K-Elite Single-Serve Coffee Maker, $190

Any new father can attest to sleepless nights, early mornings, and long days. Help him kickstart his day with this stylish, single-serve Keurig coffee maker. He'll be able to unleash his inner barista and customize his beverage experience in under a minute at the touch of a button.

Kahlmi Baby Massager, $149

Kahlmi's baby massager offers numerous benefits, including soothing infants and improving their sleep and digestion. It's a must-have for new dads and a great addition to any bedtime routine to help strengthen the baby-father bond. Help transform those stressful nights into a peaceful slumber.

Daniel Diyepriye Abimbola Jigsaw Duffle Bag, $490

Daniel Diyepriye is a British Nigerian Fashion designer who launched the luxury brand after his father's death, Tubonimi Nkari. The iconic jigsaw motif symbolizes patience and attention to detail, lessons Nkari passed on to his son. This stylish leather duffle bag is the perfect gift for a new father, whether he's off on a weekend getaway or simply needs to carry some extra baby essentials.

Shea Moisture Men's Beard Kit, $46

For any man, facial hair is the ultimate accessory. Whether a full-grown beard or a little stubble, it makes a statement. For new fathers, finding extra time for a bit of pampering and beard grooming can be tough, so any spare minute for a bit of TLC is valuable. That's why he'll love Shea Moisture Men's Beard Kit. Packed with the goodness of invigorating Maracuja Oil and certified organic Shea Butter, it includes a beard and face wash, a detangler, a conditioning oil, and a mask to help cleanse and hydrate the beard without drying out the hair and skin.

Dad Law The Definitive Reference for All Things Dad, $17

Dad Law is an excellent book for any new dad who is yet to discover the secrets of 'dadish' behavior. You've probably heard someone say, "that's totally something a dad would do."  From cracking bad puns, and giving all male friends and family members irrevocable nicknames, to making restaurant waitstaff roar with laughter within minutes of being seated, these legally mandated behaviors are collected in this humorous book that is bound to make any new dad laugh out loud.