Keshia Knight Pulliam Claps Back at Ed Hartwell Over Visitation Drama and She Brought the Receipts
The actress says he's lying.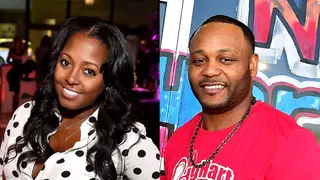 Keshia Knight Pulliam and her ex, Ed Hartwell, are now going at it over the former athlete's claims that she spitefully chose to accompany Bill Cosby to trial during one of the days he was scheduled to visit their daughter.
In new court documents, the former child star is firing back at Hartwell's allegations and says she has proof to show that no visit was scheduled.
According to TMZ, Pulliam claims she has emails to prove that Hartwell not only had no visit set up with their daughter for the time she was away, but that he also was fully aware that she was heading to Philadelphia and never objected.
The documents she filed reportedly show that Hartwell failed to reserve the site where the supervised visits take place. He apparently was supposed to make the reservation a week prior to the date, but when he failed to do so for June 6, Pulliam went ahead and made other arrangements.
She also reportedly attached an email dated for June 4 where she reminded Hartwell that there would be no visitation since he did not reserve the site.
Recap some of the recent events from Cosby's trial in the BET Breaks video, above.