Lizzo Proves Why She's 'Special' During Last Stop Of 2022 Tour
The award-winning singer also brought out an unexpected guest!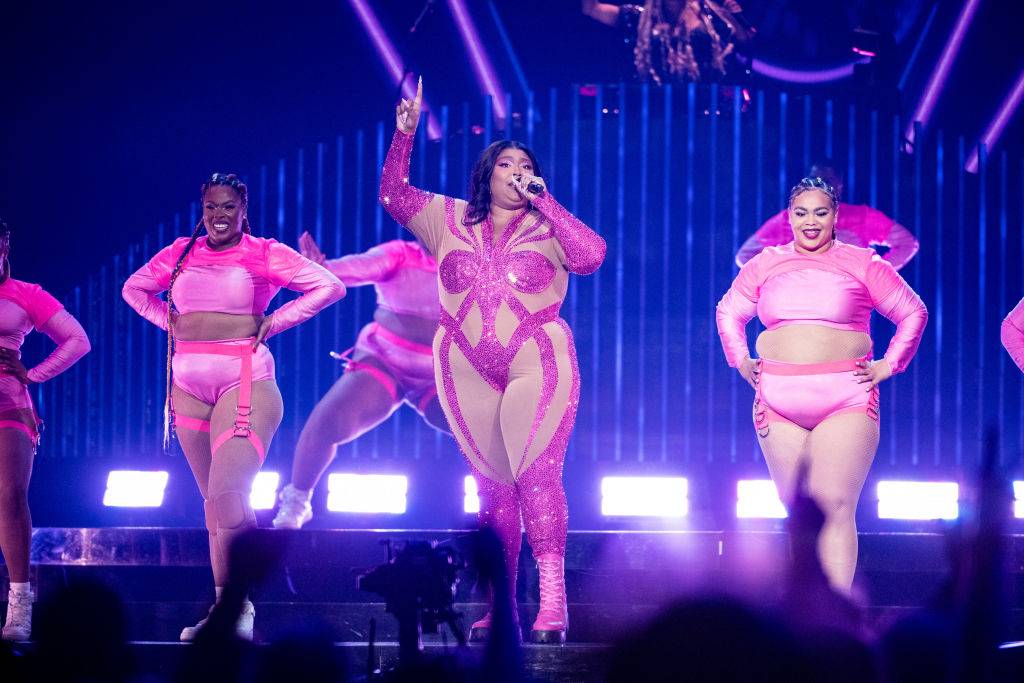 Saturday night (Nov. 19) marked the end of Lizzo's "Special" tour at the Kia Forum in Inglewood, California. And a group of journalists were able to receive VIP treatment courtesy of Kia USA and the venue. Needless to say, it was a night many will never forget.
Lizzo, who recently received 2023 Grammy nominations for the "Album of the Year" and "Song of the Year" categories, had another sold-out Los Angeles show with a diverse crowd that included all races, age groups, and genders. This isn't shocking since Lizzo's music inspires self-love and empowerment and is filled with messages everyone can relate to, regardless of background. 
With Lizzo's second, sold-out Los Angeles show, the Kia Forum was filled with a contagious energy that was put in motion by the "Special" singer's friend of 10 years, and personal DJ, DJ Sophia. Even before Latto, who has been the opening act on the tour, took to the stage, we were graced with performances by people from Lizzo's inner circle, and one person, in particular, stood out. If you didn't know, Lizzo's celebrity stylist Shelby Swain actually has a few bops available to stream. Swain got the crowd hyped up with her songs "Bounce Dat Ass It's Christmas Time," and "Rich B-tch On Vacation". I'm quite sure we can expect to hear more of her music in the near future.
If Swain's music had some of the older audience members clutching their pearls, they were in for a big surprise when it came to Latto! The professed "Queen of da Souf," got it ratchet from the jump, with hits from her widely successful album 777.
Latto performed a medley of songs that included: "Soufside," "Muwop," "Sunshine," and of course her big hit, "Big Energy". The recent Grammy nominee also made political statements, that may have made her lyrics more palatable to those who weren't familiar with the rapper, when her dances pulled out their signs that read "My Body My Choice," and "Protect Women's Rights". Latto's performance was definitely "Big Energy"ready.
When it came to keeping things on time, the show definitely kept it moving like clockwork. At promptly 9 p.m., the pièce de résistance of the evening emerged on the stage like no one else could. As a video projection of her talking appeared at the rear of the stage, Lizzo rose from the lower level onto the stage.
"Hi, Motherf-cker, did you miss me?" Lizzo asked the crowd, over their roaring applause. And they most certainly did.
Lizzo wore a Pink catsuit with a pair of hot pink combat boots that also had pink laces, and her dancers from the Emmy-winning Lizzo's Watch Out for the Big Grrrls series, had identical outfits. Lizzo's hair was styled in long loose waves and accessorized with silver hoop earrings and pink shimmery eye makeup.
Her performance was high energy and the dancers  proved why they were the lucky ones chosen from the reality show to accompany her on tour. Fans were in for a treat because she definitely had a few extra surprises in store for the audience. At the top of her set, she informed everyone that the concert was being taped for a television special. And towards the middle of the set, she was joined on stage by R&B singer Sza to perform "Special".
Earlier that day, Lizzo did a TikTok hinting at a collaboration with Sza.
Will we get a special release? Only time will tell.
Fans who didn't get to see Lizzo in person this time around are in luck. Although last night's performance was heralded as the end of the tour, it's really only the beginning. Last week, she announced that she will do another leg throughout 2023, which she appropriately named The Special 2our and she'll once again be joined by Latto.
Something tells us those shows will be memorable as well.