Awkward Moment From Kevin Hart's Interview With Don Cheadle Is Going Viral
Age is apparently a lot more than just a number for some folks.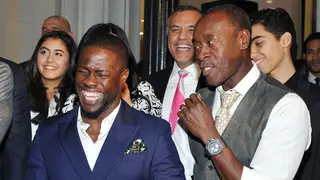 Kevin Hart and his new series Hart to Heart is giving people access to emotional and candid conversations. And it got super real on this week's episode of the Peacock series.
During an exchange about age, guest Don Cheadle revealed his age to Hart, to which the actor responded by revealing he's 56 years old. But it was Hart's reaction that has the moment going viral on social media: the Think Like A Man star responded with a loud "Damn!" that left Cheadle with an unamused look on his face.
Hart apologized, but it didn't seem to make much of a difference:
The two begin to go back and forth about the way in which Kevin meant the "damn" response. "I didn't mean it the way it came out," Hart tried to explain. Still unamused, Cheadle responded, "We'll take a poll on how you meant it, when people hear it after the show is over."
"I can honestly say that that was from a place of love," Kevin continued to explain, but Cheadle was biting on Hart's sentiment. The two didn't end the conversation in agreement.
Cheadle later lightened up the mood to share his thoughts on Twitter about the exchange, noting the two should do a movie together. 
"Doing what we do best and that's being assholes to one another," Kevin said in his Instagram caption, sharing a clip of the interview.