Making The Case For Calling Bill Russell The G.O.A.T.
It's NBA All-Star Weekend and yeah, we know we're gonna get in trouble for this. But give it some thought, then fight it out with your friends.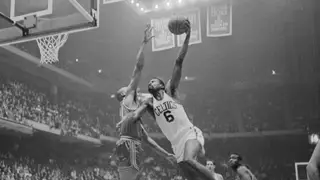 With the NBA All-Star Weekend here, thoughts about basketball greatness are once again in the air.
Throw in the fact that LeBron James is leading the way with an unprecedented 19th All-Star selection, and the cat calls for King James as the greatest of all time, given his surpassing of Kareem Abdul-Jabbar for the NBA all-time scoring record well, they tend to be screamed a little louder than usual now.
Part of that is fueled by recency bias; as if players who didn't have millions of social media followers in their prime or play games that can be watched on smartphones, need not apply or be considered for G.O.A.T.
As much as James' play has positioned him to be prominently featured in those conversations, the real G.O.A.T. of the NBA whose name seldom comes up, is none other than William Felton Russell known to most of the basketball world as the game's greatest winner.
NBA Defense, Redefined

In the Netflix documentary, "Bill Russell: Legend," he talks about a game in college when he jumped to block or contest shots. During a time-out, Russell was told by his coach not to jump because that's not how they play defense. Opposing players began to score when Russell stopped jumping. So he soon returned to swatting shots every chance he got, setting the path for so many future big men to dominate that end of the floor.

Russell didn't just dominate that end of the floor; he redefined what being an elite defender looked like, doing so with the kind of above-the-rim exploits the league had not seen prior to Russell. And he didn't just block shots. He altered their trajectory by simply being on the court. And in doing so, he forced all owners and coaches to redefine what defensive greatness looked like, which is the kind of thing done by the G.O.A.T.

Consistently Elite At What Matters

Bill Russell winning 11 NBA titles doesn't define his greatness or affirms his G.O.A.T. status. What it does, is serve as a reminder of how consistently elite he was at what matters most in all sports: winning.

We often forget Russell's basketball career spanned 13  seasons, 11 of which ended with a championship. LeBron's career is now in year No. 20. He has four titles to show for it, which is impressive - not 11 titles in 13 years impressive, but impressive nonetheless.

Trailblazer Off The Court

First, you have to give LeBron James his flowers for the many initiatives he has lent his presence and platform to through the years when it comes to social justice. But as important as that work is, Bill Russell was far more impactful with the work he put in as far as activism and social justice are concerned.  He was the embodiment of Black pride and protest among NBA players, standing tall without wavering at a time when simply cutting a check to a group in those social justice streets, wouldn't cut it.

"The simple fact is we're not here without his contributions on and off the court," Golden State Warriors star Stephen Curry told Ebony.com. "His influence is everywhere."

In the documentary, players from the past marveled at the impact that Russell had on so many.

"Bill was fighting for something much bigger," NBA Hall of Famer and former Atlanta Hawks forward Dominique Wilkins, said in the documentary. "And that was to belong on equal playing field as White America."

A True Two-Sport Athlete Globally

Before Bill Russell became an NBA icon, he was a pretty good high jumper.

He was a damn good high jumper; good enough to compete on a global scale if he wanted to. In 1956, Russell was ranked 7th in the world in the high jump according to Track and Field News, third among Americans.

When former NBA player Kendrick Perkins proclaimed LeBron James as "'the Most Athletic Player in NBA history,'" Russell had to drop a couple of knowledge bombs for Perkins and the masses about his high-jumping prowess.

We have seen two-sport athletes stand out in other sports, but to be among the best in the world like Russell was in basketball and track, is a true G.O.A.T. accomplishment.

Unbreakable Record-Setter

One of the main arguments being made now as to why LeBron is the greatest ever, is centered around him becoming the NBA's All-Time leading scorer, a record that stood for nearly four decades.

As impressive as that record may be, here's the thing folks forget about with Russell.

He won his 11th championship in 1969. His record for most titles for an individual in a team sport is 53 years old and counting. And for those who like to point to the lack of teams during his era, most of those teams featured multiple Hall of Famers. So every game was literally one in which he and the Celtics faced the best of the best. And for him to win with such a consistency about him, similar to what he did in college at San Francisco, speaks not only to his talent but also the neverending pursuit and purpose he played with on a night-in, night-out basis.

The greats want to win, badly.

Winning becomes a need; the kind of need they satisfy in an unprecedented fashion.

No one understood this better than Bill Russell.

"Listen, most Americans have historic amnesia. So, if you are not Michael Jordan or LeBron James, or Giannis Antetokounmpo they don't know," said Sam Pollard, Director of the Netflix's  "Bill Russell: Legend." "When you're listening to a Steph Curry, or Julius Erving, Bill Walton and Larry Bird and Magic Johnson, or a Kareem Abdul-Jabbar, generationally, this man touched all of these players. For some, he touched them as a great basketball icon. For others, like Kareem and Chris Paul, and Steph, he touched them as a social activist, which is wonderful. Again, it goes back to the fact that he just doesn't come across as just one thing."

Actually, that's not entirely true when you're talking about Bill Russell who should be better known as the G.O.A.T. of the NBA.

A. Sherrod Blakely is in his Michael Jordan year (No. 23) of covering the NBA, and is also a full-time lecturer at Boston University.