Rapper DDG Says 'Don't Get Veneers' After Experiencing Dental Complications For A Year!
The entertainer took to social media to express his frustration.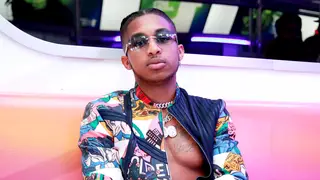 DDG is opening up about the struggles he's personally experienced with veneers. The rapper recently took to social media to complain about the sensitivity he's been experiencing with his two front teeth.
"Back in the trenches y'all—back in the dentist. My two front teeth has been bothering me for like the past year with sensitivity and sh*t," he explained in a video obtained by Hollywood Unlocked. 
The 25-year-old entertainer went on to encourage his fans to not undergo the cosmetic dental procedure unless they really need it. "Don't get veneers, it's pointless. It's pointless," he expressed during the candid video.
According to Cleveland Clinic, dental veneers are "custom-made shells that fit over the front surfaces of your teeth" that are designed to "conceal cracks, chips, stains and other cosmetic imperfections."
Although it is a very common cosmetic dentistry treatment, teeth sensitivity to heat and cold is amongst the risks listed by professionals, in addition to loss of tooth mass or the outcome may not be what you expect. 
We hope that the dentist is able to help DDG get his teeth back to normal.