Bobby Lytes On His OG Status On 'Love & Hip Hop: Miami,' Becoming the Ultimate Villain, and Who's To Blame In the Erica Mena/Spice Mess
Plus, the TV personality shares why he's optimistic about the place LGBTQ+ artists hold in hip hop today.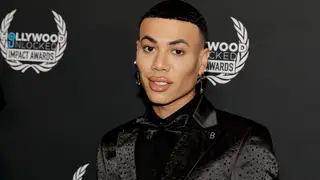 Bobby Lytes has maneuvered through these reality television streets and is quickly turning himself into a household name. Packing a mean punch with his merciless reads and boisterous personality, the 32-year-old is gaining more notoriety as one of the most impactful queer voices on television.
Lytes first invited us into his life, detailing the relationship with his cousin, hip hop legend Trina, and with different lovers, as well as the tumultuous aftermath that usually followed. He was introduced to fans in 2018 during the first season of Love & Hip Hop: Miami, and after five seasons on the VH1 reality show, he is officially an O.G.
Throughout this time, Lytes has earned the crown of best reality TV show villain, and his title will be tested in the upcoming E! series, House Of Villains. The series (which premiers on Oct. 12) will show Lytes living with other reality legends, including Omarosa, Tiffany "New York" Pollard, Bad Girls Club veteran Tanisha Thomas, The Real World/The Challenge star Johnny Bananas, and more.
In a lively interview with BET.com, Lytes discusses his time on the new series, bumps in the road filming the current season of Love & Hip Hop: Miami, his thoughts on Trina, Trick Daddy, Sukihana, and Erica Mena's controversial comments, plus much more.
BET.com: You've been on Love & Hip Hop: Miami for all five seasons. Looking back, how do you think you've grown?
Bobby Lytes: Aside from the fact that I'm making way more money now, I've grown in terms of my mindset and my maturity onscreen. I'm less impulsive and have a lot more patience now. I used to be very impulsive and react off of my emotions but by being on [Love & Hip Hop: Miami] for the past five seasons, I've been able to create a sense of self-awareness and not take it from 0-100. Being on the show is a test of character, so I'd say that every season has helped me build up my maturity.
BET.com: It seems you and Sukihana are at odds after you questioned her about changing her persona. Sukihana can be the subject of scrutiny at times. Tell us why you think she changed things up.
Bobby Lytes: I believe in the concept that "If it ain't broke, don't fix it." The world, including myself, fell in love with ratchet Suki. We loved her unapologetic side. We love her character, energy, charisma, and sense of humor. We don't want to see you turn into the prim and proper Suki. I took it as her being ashamed, embarrassed, or tired of being criticized about her ratchet behavior and tendencies, which, in hindsight, has made her Suki. I feel there was a personal battle within herself where she felt she needed to do this revamp but as her friend and someone who is a fan of her work, I felt she shouldn't have to do that.
If you want to elevate, that's beautiful, because elevation is a good thing. For her to rebrand, she's changing everything that got her to this moment into something else that may not work for you because, let's face it, she may not be able to keep up with that. She was just at the VMAs and is now a meme for laying down on the carpet at the award show—that's the Suki we love! I don't want to see legs crossed and glasses on Suki; that's someone else. Suki is who she is because of her mouth and how she acts. I never wanted her to feel like I was trying to shade her or read her; I was being a real individual. As a Scorpio, and she's a Scorpio, I kept it real with her and unfortunately, things got lost in transition. I still stand by what I said and at the end of the day, I love Suki down.
BET.com: As the season continues, can we expect to see you both patch things up and get your friendship back on track?
Bobby Lytes: I will say that after we had that conflict, there's an upcoming sit-down between us where we address everything. I did confront her about the things she said to me. I felt disrespected and like she owed me an apology.
BET.com: Is there anyone else you butt heads with on the show this season?
Bobby Lytes: Trick Daddy. Trick constantly gets on my nerves. He's like an uncle that I wish was not in my life. I hope he gets it together because I have it together on my end.
BET.com: You're also no stranger to public scrutiny, and people have a lot of opinions and comments on some of your actions. Is there anything you've ever done that was publicized and you regretted later?
Bobby Lytes: I don't regret anything I did in my life. I just pretend it never happened (laughs). Maybe that's my version of regret. There are things I look back on and wish I had done differently, but I don't regret them because they resulted in an outcome that has me in the position I'm in today. Everything that I have done has been meant to teach me a lesson, open the next door, or close one door to open up another door.
BET.com: Recently, Love & Hip Hop: Atlanta decided to release Erica Mena from the series because of the controversial comments she made towards Spice. As someone who has been involved in numerous spats in the past, what's your take on that situation?
Bobby Lytes: In the heat of the moment, which is a very common thing, a lot of us say things we don't mean. I believe that when you say certain things, even if you don't mean it, it still speaks to your character, which can translate into someone who is a colorist, a racist, a hater, a homophobe, or whatever. In the case of Erica Mena against Spice, I will say that I do not think the way everything played out shouldn't have played out like that because the network could've just not aired it. If you knew that was said, why air it? In the same breath, Erica knew she shouldn't have called Spice that, especially not when you were filming. There were so many people wrong in the situation. It's a sad situation for everyone involved.
Sometimes on set, we forget the cameras are there and say things we may not mean. Would I have ever called Spice that? Probably not just because I know how the term monkey is associated with the Black community, but I have also heard white people call each other monkeys before. It gets deep.
BET.com: You've opened up in the past about your relationships on television and some of your personal struggles, which isn't easy to do. Do you ever regret baring it all for the cameras?
Bobby Lytes: I don't regret it, but I wish I would've shared more so people could understand the full story and there are also times when I wish I would've shared less.
BET.com: Your relationship with Trina was an open book to viewers. How is the cousin dynamic these days?
Bobby Lytes: It's great and we're at a level of friendship now where we can say we are each other's favorite cousins. Our bond is unbreakable and we understand each other. The show has helped us come together. I feel like we would not be as close as we are today without Love & Hip Hop. I'm grateful for the show and the ups and downs we've gone through but I do feel it was part of a bigger scheme to get to the bond that we have now.
BET.com: Is there a time limit on reality television for Bobby Lytes? How long do you plan to do this?
Bobby Lytes: That's a great question. As long as those checks keep coming in, I'll be on there in my 50s or 60s (laughs). Reality stars find themselves producing other people's scenes but not getting proper credit for them, including myself. When I finally received the title of executive producer on my own dating show, I could see myself in the television industry but behind the scenes. I can see myself creating and executive-producing other shows and creating amazing content.
BET.com: You recently attended the VMAs and you sat right behind Lil Nas X. In the past, you've shared your crush on the pop star. Did you shoot your shot?
Bobby Lytes: I shot my shot so many times I ran out of ammo (laughs). I really can't shoot another shot as Lil Nas X anymore because I refuse to keep getting turned down. While we won't ever be a thing, I consider her my sister (laughs). You better work, girl!
BET.com: If you could shoot your shot at anyone right now, who would it be?
Bobby Lytes: Giveon. It's his voice and his beautiful chocolate skin. I think he might be straight, though (laughs). I hope there's a little hope for this little ho (laughs).
BET.com: You're set to appear on E!'s new series House Of Villains with other notable villains in their own right. Is there anyone you really connect with during filming?
Bobby Lytes: I clicked with everyone because I was being fake and trying to win the competition so I made sure I did what I had to do. Now, one person I didn't expect to click with but I did, was Corinne Olympios from The Bachelor. We clicked because we're both Scorpios. I also clicked with Omarosa—every morning we would cook each other breakfast.
BET.com: Is there a "villain" you felt should've been added to the cast who wasn't?
Bobby Lytes: I would say Nene Leakes, Joseline Hernandez, and Natalie Nunn. My favorite TV villain of all time, besides myself, is Omarosa. I don't want to give too much away from the show, but the moment she walked in, she was a villain.
BET.com: BET is gearing up for the Hip Hop Awards on October 13. While hip hop has been slow to open doors for queer artists, are there any who you think have made inroads?
Bobby Lytes: Absolutely! Saucy Santana, Lil Nas X, Cakes Da Killa, Big Mama, and even myself as I plan to release new music. There's progress with the LGBTQ+ members who are in the entertainment or hip hop scenes, but we need more. I look forward to seeing everyone make a name for themselves.
Watch Bobby Lytes on VH1's Love & Hip Hop: Miami and on the first season of House Of Villains on E! premiering on Thursday, October 12th. This interview has been edited for length and clarity. This interview has been edited for length and clarity.
---
Ty Cole is an LA-based entertainment reporter and writer for BET.com who covers all things pop culture, entertainment, and lifestyle. Follow his latest musings on Twitter @IamTyCole.