'Love & Hip-Hop: Miami' Returns With Explosive Season 5 Trailer
The series premieres on  Monday, August 14 at 8 PM ET/ PT on VH1.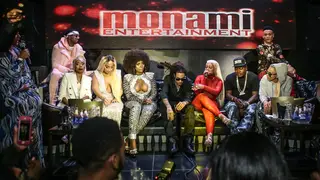 VH1's popular reality series, "Love & Hip-Hop: Miami," returns next month for its highly anticipated fifth season, and fans are in for an electrifying treat as the explosive super trailer has already been unveiled.
This season promises a remarkable journey of reinvention as the show's iconic industry legends and hard-hustling up-and-comers step outside their comfort zones, ready to embrace new challenges, reveal spicy relationships, make game-changing career moves, and undergo jaw-dropping personal evolutions.
In the newest trailer, we witness singer Amara La Negra exploring uncharted waters with her "friend-turned-lover" Safaree, who has recently arrived in the sunshine state after finalizing his divorce from Erica Mena.
Elsewhere, the Miami Queen of rap, Trina, sets out on a prestigious new chapter of her career while dealing with the weight of grief after a family tragedy and the heartbreak of calling off her engagement to her long-time beau, Raymond.
Other familiar faces include Ray J and Princess. While the pair may have called off their divorce and are now living in Las Vegas, new challenges arise, threatening to undo all the progress they've made in their relationship.
Viewers can look forward to the return of veterans such as Sukihana, Bobby Lytes, Shay Johnson, and Gunplay, who are set to bring their signature flair to the show. However, that's not all—the upcoming season introduces fresh talent, including Miami Tip, Joy Young & Vonshae, Supa Cindy , and the Hollywood Twins who promise to inject new energy and drama into the mix.
Get ready for an unforgettable rollercoaster of emotions, as "Love & Hip-Hop: Miami'' raises the bar once again, delivering drama, passion, and surprises that will leave audiences captivated. The series premieres on  Monday, August 14 at 8 PM ET/ PT on VH1, and don't forget to check out the trailer below.