My Pregnant Cousin Was Killed By Two Police Who Were Dispatched To Protect Her
Fighting for justice from Seattle to Kingston.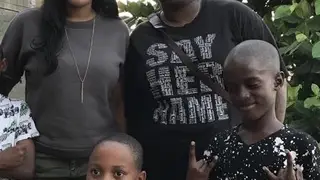 Last year, my pregnant cousin was killed by two men who were dispatched to protect her.
Charleena Lyles was a caring mother of four and was expecting her fifth child. Earlier that day, she had called the police to report a burglary, and the police came to investigate who had broken into her home. But instead of looking for a robber, the two policemen fired seven times at a startled Charleena. My 11-year old cousin had to walk over his mother's dead body. Even my one-year-old cousin was old enough to realize that something terrible had happened.
Last November, the two policemen responsible for Charleena's death were judged to be innocent. But I know that deadly force had no place in the home of a mother and her four children.
Since Charleena's death, I have worked with other families in Washington State through Not This Time and the De-Escalate Washington coalition who have lost loved ones to police violence. We gathered more than 350,000 signatures in support of Initiative 940, to address police use of deadly force. Not just families like mine sought these reforms to the law. We worked in collaboration with law enforcement all in agreement on the need for these changes to make our communities safer.
On March 8, the final day of Washington State's legislative session, history was made, the legislature passed Initiative 940 and ESHB 3003. These measures will allow for greater accountability when police officers use deadly force unlawfully and require police to have continual de-escalation, mental health, and first aid training to help prevent these incidents from happening in the first place. With the passage of these bills, investigations into the use of deadly force will be now be conducted independently of the agency that the officer involved works for, and also require the involvement of Tribal governments when a tribal person is injured or killed.
As we celebrate the passage of these measures locally, I know that police violence is an issue that goes beyond state, and even national borders. All over the world, there are parents, partners, and children of those who were wrongfully killed by the police, seeking justice.
International law restricts the use of lethal force to very rare circumstances. Police should only use such extreme measures in the face of imminent death or a serious injury. However, violations of this law happen every day. Every day, people are denied their rights to live without fear of being killed by people who are meant to protect their security.
Charleena's death is not an isolated incident, but part of a global problem that requires loud and powerful voices to come together. Jamaica and Brazil also have staggering rates of police violence, with communities of color often paying the price. That is why I am in Jamaica, to work with other families who have suffered from police violence in many different countries.
There, I will stand alongside Shackelia Jackson, whose brother was killed by police who burst into the Jamaican restaurant where he was working and shot him dead, mistaking him for a robbery suspect with dreadlocks like his. I will also stand alongside Ana Paula Oliveira, whose son was killed by police in the Manguinhos favela of Rio, which had been flooded with military police in the weeks leading up to the 2014 World Cup.
We are part of an international movement that calls for police responsibility. We will empower each other in our battles to seek justice, and we will tell lawmakers and policemen that they must implement swift reforms to stop innocent lives from being taken.
We never want to see another child cry at their parents' funeral because of police violence. We never want to see our children think that their race or background makes them unequal before the law. We come together across borders, as leaders of a movement that will save lives, restore hope, and bring justice to those who were wronged.
Katrina Johnson is an activist and cousin of Charleena Lyles. She is joining Jamaican activists Shackelia Jackson and Ana Paula Oliveira in fighting for justice. These women and their families have all suffered at the hands of violence by the police, proving that lethal force is a global epidemic.