Rest in Peace: Charlie Murphy Dies at 57
This is a tragic loss.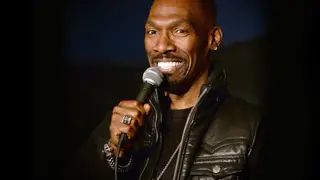 Accomplished stand-up comedian and actor Charlie Murphy has died after an ongoing battle with leukemia, TMZ reports. He was 57.
Murphy's manager confirmed the news, this morning, adding that he spent his final moments in a New York City hospital. The actor/stand-up comedian had reportedly been undergoing chemotherapy for some time. 
Murphy's most recent project was BET's Comedy Get Down, which is set to premiere this fall. BET chairman and CEO Debra Lee released a statement on his passing:
"Murphy was not only a comedian, but he was also a legendary story teller of our time. Who could ever forget the infamous Rick James, Charlie Murphy story? We'll never forget the belly laughs and the joy he brought. His legacy will live on through his timeless work and many contributions to the comedic community at large. We at BET are thankful that Charlie Murphy has been a part of our story and celebrate his life. My thoughts and prayers are with his children, Eddie and the rest of his family during this most difficult time."
Murphy, older brother to fellow actor and comedy icon Eddie Murphy, rose to fame after co-starring on Chappelle's Show in what is remembered today as the home to some of the most memorable and iconic skits throughout the show's running.
Some of the most outstanding films and series he had starred in throughout his career include The Boondocks, Black Jesus and Are We There Yet?
In addition to his roles as actor and comedian, he was also an accomplished writer, having co-written some of his younger brother's movies.
Most recently, Murphy returned to the comedy circuit, where he toured with some of his peers, including Cedric the Entertainer, Eddie Griffin, D.L. Hughley and George Lopez.
We send our thoughts and prayers to his family, friends and fans during this tragic time.
Get the details on Murphy's untimely passing in the BET Breaks video, above.