New Orleans Rapper Flow Sentenced To Two Life Sentences For Double Murder
The New Orleans rapper has been convicted for the 2015 murders of two brothers.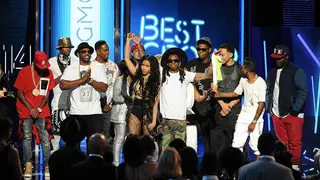 DeGruy was found guilty for the murder of two brothers, Kendred Bishop, 18, and Kendrick Bishop, 22. 

According to HipHopDX, the two brothers were gunned down inside of black sedan after reportedly attending a Lil Wayne concert with DeGruy in Alabama the night before. They were found dead the following morning on May 25 in 2015. The brothers were close friends of DeGruy, and Kendrick was reportedly signed to his label as well.

In the proceedings, prosecutors claimed that DeGruy murdered the brothers because he believed that they stole $8,000 in cash and a weapon from him. The NOLA MC was first connected to their murders as a prime suspect after police uncovered his cellphone near the crime scene during the investigation. 

The rapper also initially denied any involvement or knowledge of the brothers, but his statements to the police attesting his innocence all contradicted one another, which only further raised suspicions. In the weeks leading up his recent trial, DeGruy pleaded guilty to obstruction of justice and lying to police but maintained that he knew nothing of and was not involved with their deaths.

A jury panel ultimately declared him guilty on an 11-1 vote.

According to in-court reports, DeGruy's legal team is currently planning to appeal the sentencing.