Baltimore's MLK Day Parade Will Continue Despite Cancellation
Mayor Brandon Scott's office will organize the parade.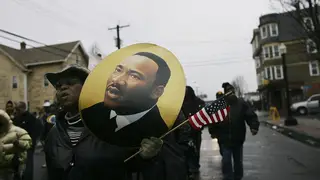 Baltimore's Martin Luther King Jr. Day parade was canceled for the third year in a row but will now be brought back.
According to CBS News, the Baltimore Office of Promotion & The Arts (BOPA) canceled the parade due to COVID restrictions but Mayor Brandon Scott announced the parade will continue without the BOPA. Scott tweeted on Sunday, Jan. 8, "There will be a MLK Day parade noon on January 16th kicking off at the normal starting point. My focus during the parade will be very simple!"
He also told WYPR Radio that his office will organize the parade "because BOPA is not doing it." Additionally, Scott and city council members are demanding that BOPA CEO Donna Drew Sawyer step down or their funding will be cut.
"I will not fund BOPA in the upcoming fiscal year and I will not renew BOPA's contract when the current one expires if Ms. Sawyer is not removed by January 15, 2023," Scott wrote in a letter to Brian Lyles, the president of the board of directors. "If the Board fails to act swiftly, I am prepared to transition the organization's responsibilities to other City agencies who will be able to uplift Baltimore's arts community while maintaining our traditions."
On Jan. 5, the BOPA claimed it made "a conscious decision" to cancel the parade and encourage public service.
BOPA has not released a statement in reaction to Mayor Brandon Scott continuing the parade.