Macy Gray Addresses 'Transphobia' Backlash On 'Tamron Hall Show'
Tamron Hall also addressed the singer being "beat up" over her comment and being misunderstood.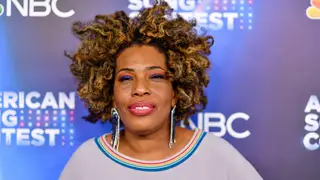 On Thursday, Grammy-winning singer Macy Gray appeared on The Tamron Hall Show to discuss her latest album, "The Reset," and the fallout from her past comments about gender identity during her appearance on Piers Morgan Uncensored in July.
Gray addressed Tamron Hall as she brought up the backlash the "I Try" singer went through. She opened up about the singer being "beat up" over her comment and being misunderstood.
"Well, honestly, what I meant by being misunderstood is what I was talking about was womanhood. Like, my mother always said, you know, 'You're not a woman yet.' So it's just like when a boy becomes a man, so I was talking about maturing into a woman like I have two daughters, and I don't, I don't consider them women because you know, they're like two 20-year-old dummies, you know," Gray said.
She continued, "They're not on my level yet. You know, so originally, that's what I was talking about. And, but of course, it got turned into me being a 'transphobe' which couldn't be further from.  I honestly, what I did learn was pure acceptance. I thought I was accepting before, but it was good for me because I've grown into just really, like, truly seeing someone and accepting them for who they are and who they want to be and their opinions. And that's what makes the world what it is, is that everybody is different."
"So if you get into putting people down or canceling people or cutting people off because they don't agree with you, then then you don't have, you no longer live in the world that you want to live in. Do you know what I mean?"
In July, Piers Morgan asked Gray to define womanhood, according to BET.com.
She replied, ​​"I will say this, and everyone's gonna hate me, but as a woman, just because you go change your parts doesn't make you a woman. Sorry."
Morgan asked if she believed that to be true, to which she responded, "I know that for a fact."
"I'd say a human being with boobs. You have to start there. And a vagina," she shared when Morgan continued asking her about the definition of a woman. "Like if you want me to call you a 'her,' I will, 'cause that's what you want, but that doesn't make you a woman just 'cause I call you a 'her' and just because you got a surgery."
"I don't think you should be called transphobic just because you don't agree with, you know … there's a lot of judgment and throwing stones at people for just saying what it is," Gray said in response to the backlash of reportedly having a difference of opinion about trans women.