Rap & Beefs: How They've Shaped Hip-Hop Narratives
In the history of Hip-Hop, rap beefs have played a significant role in the culture.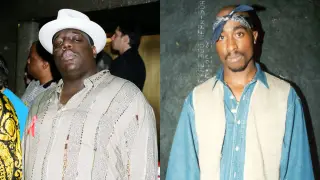 Since the birth of hip-hop, rap beefs have been a part of the culture. Lyrical combat between MCs is one of the defining aspects of rap music as a test of skill. In the embryonic stages of MCing, the battles took place in ciphers, clubs, and later on, in records where they would take on lives of their own. Whether in music or today in social media platforms, these beefs can change the perception of an artist by the audience overnight.
Hip-Hop's First Battle On Record: Kool Moe Dee vs. Busy Bee Starski
One of the earliest and most infamous rap battles occurred in 1981 in New York City between Kool Moe Dee vs Busy Bee Starski. Having earned a reputation as a party rapper who knew how to work for the crowd, Busy Bee came on stage and did his usual routine at the Harlem World Christmas celebration and threw some shade at Moe Dee and others during his set, saying he could not be defeated. Busy was in for a surprise when Kool Moe Dee, a member of the Treacherous Three, took the stage and let loose one of the most lethal diss verses ever. While hip-hop was still a New York-based phenomenon, Koo Moe Dee's battle rhymes, lyrical dexterity, and rapid-fire delivery introduced a change of the guard, and his motif of MCing and dissing rappers would have an undeniable influence on the next generation of MCs.
Crew Against Crew: The Legendary Bridge Wars
As rap music evolved, rap beefs began to take on new life and become more than. Another infamous rap beef was between two boroughs and two stables consisting of South Bronx's Boogie Down Productions, featuring KRS-One and DJ Red Alert, and Marley Marl's and Mr. Magic's Juice Crew, representing Queensbridge. The feud stemmed from BDP playing "$ucce$$ I$ The Word," for Mr. Magic, who thought the song was whack, which meant the track would not get any play on WBLS, the most popular radio station playing rap music in New York. Shortly after that, Marley Marl & MC Shan's track  "The Bridge '' was released in late 1985, and BPD claimed the song credited Queens as the birthplace of hip-hop. In response, KRS-One and Boogie Down Productions released  "South Bronx," setting the record straight on the real birthplace of hip-hop. Although Shan would answer with "Kill That Noise," BDP's "The Bridge is Over" proved to be the nail in the coffin. Years later, both sides would reconcile and work together on several projects. 

The Roxanne Wars and the Emergence of the Female Voice
Roxanne Shante, a pioneering rapper from Queenbridge, is criminally underrated for her significant contributions to the culture. As a teenage rap sensation known for her ferocious battle rhymes, she took the opportunity to use U.T.F.O.'s hit "Roxanne, Roxanne" as a jump-start to her career, realizing that rap beefs could galvanize an audience and garner a rapper recognition. At 14, she dropped the Marley Marl-produced "Roxanne's Revenge," and it became a bona fide hit.  U.T.F.O. responded with "The Real Roxanne" for a series of answer records inspired by the song. Seeing an opportunity to get in the game, as many as 100 songs were written by rappers hopping on the bandwagon during the height of Roxanne Wars. Eventually, the beef would slowly die down, but the marketability of rap beefs was born, and many would use this technique for years to come.
A Generational Beef: Kool Moe Dee and LL COOL J
In 1987, Kool Moe Dee emerged on the scene and claimed that LL COOL J, rap's biggest star, stole his style. The elder statesman dropped "How You Like Me Now," and the album cover featured a vehicle running over one of LL's signature Kangol hats.
The rivalry continued with LL's "Jack the Ripper" and  Moe Dee's "Let's Go." LL put the beef to bed with "To the Break of Dawn" and "Mama Said Knock You Out," one of the most iconic diss songs ever.
Kool Moe Dee and LL's beef produced some of the best music they made in their careers proving that battles can spark creativity.
When Rap Beef Goes Too Far: The Tragic Deaths of Tupac Shakur and the Notorious B.I.G
One of the best examples of how rap beef can have real-life consequences was the so-called East Coast vs West Coast beef, where Tupac Shakur and the Notorious B.I.G. as the main protagonists. Once friends as they rose in the rap game, the beef began when Shakur accused Biggie of being in the know when he was shot at Quad City Studios in 1995. After being bailed out from prison by Marion "Suge" Knight for a sexual abuse conviction, Tupac aimed at Biggie, Bad Boy Records, and a plethora of New York rappers                                                             
In one of hip hop's greatest tragedies, Shakur was shot in Las Vegas on September 7, 1996, and six days later, he died in the hospital. Six months later, Biggie was shot and killed in a drive-by shooting in Los Angeles. Almost 30 years later, Duane Keith "Keffe D" Davis, a former leader of the Southside Crips gang was charged with Shakur's murder in November 2023. No suspect has ever been charged for Biggie's murder.
No one used rap beefs to create their own narrative and for marketing purposes like 50 Cent. Rap beefs are a key ingredient to his success with his underground banger "How to Rob," which playfully named many rappers and R&B singers. He first used rap beef as a way to gain exposure when he feuded with Ja Rule.
The beef between the two natives of Queens began when a member of 50's crew allegedly robbed Ja's for his chain in 1999. According to Murder Inc.'s account, they turned 50 away from appearing in a video that was shot in Queens. no matter how the beef began, it is arguably the longest in the history of rap music.
50's first breakthrough hit was "Wanksta," which was inspired by Ja Rule, who was one of the hottest acts in music at the time. 50 and the sales of his classic debut album Get Rich or Die Tryin gained immense popularity and manipulated the narrative of how Ja Rule was viewed in hip-hop by criticizing his pop-R&B-influenced songs. Some argued that 50 had his biggest commercial success by using the same formula. After getting the best of Ja, 50 would beef with Fat Joe, Jadakiss, The Game, Cam'ron, and so many others as a way to promote his upcoming projects and to preserve his narrative of being the bully on the block who always time to throw shots at rappers.
The Future of Rap Beefs                                                                                                                                           Rap beef will be a central component of the art form as long as there is hip-hop. From Ice Cube's "No Vaseline" that decimated NWA, Dr. Dre's brutal exchanges with the late Eazy E., and many more battles that have occurred since then, rap beefs are all about who controls the narrative. The imminent danger is that rap beefs have the potential to go from a competition to prove which rapper is better to lives being lost due to violence when it escalates.
But the tradition of rap beefs remains the best method for hip-hop artists to control their narratives. Hip-hop fans will always be here for it if it stays in the music and doesn't bubble into real life.