Naomi Campbell Gets Candid About Having Hot Flashes And Being in Perimenopause
"There's nothing you can do. It just happens," said the mom of two.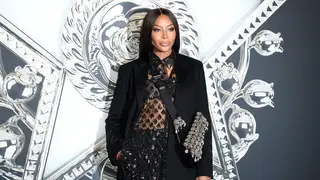 Naomi Campbell is being honest about the changes that her body is experiencing.
While speaking on a panel during the four-part docuseries The Super Models, the mom of two began having a hot flash on set and did not hold back, according to PEOPLE.
As she felt the "pre-menopausal hot flush" come upon her body in the fourth episode, she said, "I think I'm going through menopause. It's pre-menopause."
"There's nothing you can do. It just happens. S—, Lord," Campbell replied when asked if she needed anything to cool down. The model noted that the hot flash felt like she "just got into a furnace."
"One minute, I'm fine. Next minute, just this furnace comes up," the supermodel explained. "Why do men not get menopause?"
During that episode, she was also heard in a confessional saying, 'Aging, your body changes and everything changes…'There have been times when I said "Okay I'm gonna slow down, I'm gonna pull out. But… my energy is still the same."'
You've hit menopause after 12 consecutive months without a period. During perimenopause, you may experience irregular periods, trouble sleeping, mood changes, vaginal and bladder problems, loss of bone density, cholesterol loss, changes in sexual function, and hot flashes. Post-menopause, you can also have some of those same issues.
The show's co-director caught up with the Daily Mail on Campbell's honest confession and how she believes it will drive a conversation on women's health.
"It's such a real moment, isn't it? To see these women in these moments where you're like, 'Oh, that's so relatable… and that's Naomi Campbell.'" she told the outlet. "It's so amazing."
The Supermodels premiere September 20 on Apple TV+.