'BET Awards 2023' Unleashes Its First Wave of Performers
The performers will unite old and new schools with a non-stop hip-hop party!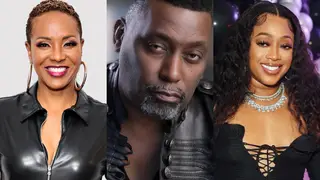 Today, BET announces an unprecedented slate of performers taking the stage at BET Awards 2023, airing LIVE on BET on Sunday, June 25, 2023, at 8 PM ET/ PT. Starting from the beginning, Culture's Biggest Night will be a non-stop hip-hop party celebrating 50 years of the genre throughout the LIVE telecast. From West Coast to East Coast, Trap to Bounce, Afro Beats, and Dance Hall, the culture's finest are set to deliver a full range of Hip Hop favorites, including 69 Boyz, Big Daddy Kane, Chief Keef, DJ Unk, E-40, Fast Life Yungstaz & Easton (F.L.Y.), Fat Joe, Ja Rule, Kid 'N Play, MC Lyte, Percy "Master P" Miller, Remy Ma, Soulja Boy, The Sugarhill Gang, Trick Daddy, Trina, Tyga, Uncle Luke, Warren G, Ying Yang Twins, and Yo-Yo. Also joining the party are BET Awards 2023 nominees Coco Jones and GloRilla, plus hitmakers Doechii and Lil Uzi Vert, with more performers soon to be announced.
"We have an incredible lineup of performers who will take us on a musical journey, covering Hip Hop spanning every decade, style, and region. From music to dance and fashion, we are digging through every crate as we celebrate 50 years of Hip Hop and its diversity, evolution, and global impact," said Connie Orlando, BET EVP, Specials, Music Programming & Music Strategy. "This wall-to-wall party will reverberate with the amazing energy and passion these artists bring to the stage and the culture. Prepare for an unforgettable night of reunions and surprises as we celebrate Hip Hop's rich history, enduring legacy, and promising future."
BET Awards has been the #1 cable award show among all adults 18-49 for the last two consecutive years and is the #1 cable award show among Black adults 18-49 for the 21st consecutive year (CY02-CY22). BET Awards is the ultimate platform to showcase the best, brightest, and most beautiful aspects of the Black experience – honoring the present and future of Black music, creativity, and sportsmanship, by celebrating the culture and being a driving force for social change.