Conservative Reporter Thinks She Can Win Against the BeyHive
The woman who rudely slammed Beyoncé is feeling the wrath.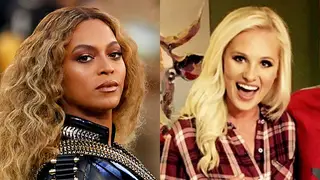 Tomi Lahren messed with the wrong one. The conservative reporter learned the hard way that taking cheap shots at Beyoncé will only incur the wrath of the BeyHive, and after her rude and racist critique of Bey's Super Bowl 50 halftime performance of her Black pride-themed single "Formation," she was swarmed.
Earlier this week, Lahren unnecessarily used Jay Z's past to attack the Queen, saying, "Beyoncé, really? Great battle of the races. Your husband was a drug dealer. For 14 years, he sold crack cocaine. Talk about protecting Black neighborhoods."
The clap back from Twitter was swift, but rather than just disappear like she should have done, Lahren is doubling down, sending her own message to Bey's angry fans:
"Let's get something straight," she says. "You don't scare me. You don't intimidate me. You will not silence me. You're bullies." She goes on to state, "my assessment of the Beyoncé Super Bowl performance was not racist in any way."
Her statements to HipHollywood.com, however, reveal the kind of racism that is only unnoticeable to those who enjoy White Privilege:
"I was disappointed to see an event — which should bring people together — turn into a race-baiting spectacle," she tells the site. "I was disappointed to see a celebrated icon use her platform to perpetuate a narrative of victimhood. MLK was a fearless leader. He advocated change through peace and education. The Black Panthers did not. Why salute that?"
She continues, "To say the handful of times police have used deadly force is the only problem plaguing Black communities is false. The cycle of gang violence, drug use and abuse plays a large role. Her husband had a hand in that. These celebrities can't pick and choose which societal problems fit their agenda. Don't exploit a problem when you once were part of the problem."
And then, the clincher: "All lives matter. There [is] no rational, reasonable White person who believes Black lives matter less. The racial conversation needs to be had but instead of playing the victim, be a leader. Why advance a militant effort to demonize and label all white people 'racist?' The calls to violence on law enforcement and the outright harassment displayed by segments of this group does nothing to advance equality or togetherness. Neither does burning down a CVS, roasting pigs or looting drug stores."
Meanwhile, back on Earth, relive the amazingness of Beyoncé's new single in the BET Breaks video below:
BET.com is your No. 1 source for Black celebrity news, photos, exclusive videos and all the latest in the world of hip hop and R&B music. 
(Photo: Ezra Shaw/Getty Images)