Tyrese Migrates To Twitter To Call The Rock 'A Clown' While He Continues To Pay Him Dust
Vin Diesel also weighs in on the drama, again.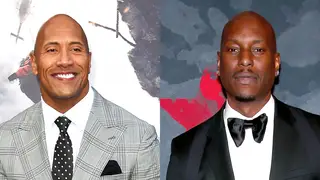 If you thought Tyrese was done ranting about Dwayne "The Rock" Johnson "unfairly" agreeing to a Fast & Furious spin-off film, think again, as the singer has hopped from one social media platform to another to ensure that the buff actor sees his gripe.
Black Ty's been vocally outraged about the former possibility of a Hobbs film, solely starring Johnson, claiming it would delay the release of the next Fast & Furious installment, and once his fear became a reality, with confirmation that Johnson's film is set to release before the group venture, he was fuming.
The Moana actor recently took to Twitter share his excitement and appreciation for the greenlighting of the Hobbs spin-off movie, and that gesture seemed to boil Tyrese's blood as he wasted no time in dragging his "brother" to hell and back in a series of mentions.
After complaining in one responsive tweet that The Rock must have "lost his number," he went on to comment that no one wants to see him in a F&F film by himself before calling him a clown and accusing him of breaking up their "family."
Take a look at Tyrese's spirited and one-sided rant, below:
Following the official announcement of the Hobbs release, Johnson and Tyrese's co-star, Vin Diesel, took to Instagram to share his thoughts in an elusive lengthy post, teasing that some "exciting news" would be coming soon.
See how this all started in the BET Breaks video, above.