Let Have! Chrissy Teigen and John Legend Destroy Piers Morgan
The controversial host's comment about the Champ has people seeing red.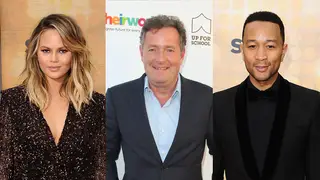 The fade is real for Piers Morgan.
The controversial host has been getting a lot of heat for his tweet following Muhammad Ali's death. Rather than remember the Champ for all the great contributions he made to the world, Morgan decided to state, mistakenly, that Ali had said "far more inflammatory/racist things" in his lifetime than has Donald Trump.

Chris Brown was the first to clap back, going on an epic rant against Morgan, and John Legend and Chrissy Teigen quickly followed suit.
The new parents teamed up against Morgan in an epic Twitter exchange. While Morgan tried to fight back, he's clearly no match for these two. See if you can keep up:
On another note, how cute is it to see John and Chrissy fighting each other's battles? The couple who trolls together, stays together, evidently. To get a more accurate picture of Ali's legacy than Morgan provided, watch Mark Lamont Hill recap the highlights of the Champ's life above.