Nate Dogg's Son Has Some Choice Words For Snoop Dogg And Warren G...
"My daddy always talked about you n**gas tryna use him..."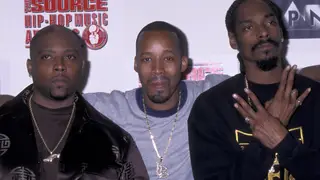 Hip-hop documentaries are abundant in 2018, and right on time amid the emergence of the newer, millennial generation of rap newcomers.

The next one to arrive is straight out of the LBC with G Funk, a YouTube original on the life and times of the West Coast-established, gangsta funk subgenre as it hones in on one major group who mastered the sound: Snoop Dogg, Nate Dogg and Warren G's legendary rap collective, 213.
Unfortunately, not everyone is on board with the new film, however, and the late rapper's son, Naijiel Hale, is one of them after he claims his family was snubbed for a mere invite to the film.
Naijiel began by declaring he had a bone to pick with Snoop and Warren's promotion of 'G-Funk'…

He said that no one of Nate's immediate bloodline received an invite, including his grandmother (Nate's mom). "I guess that's how you treat the family of somebody that solidified a sound to give it such a name, but I'm just the son."

He went on to explain that he would rather the organizers behind the film totally leave Nate out of it, considering what he deems as a cold-shoulder to the family. They did, however, receive an invoice from the documentary, he said. Naijel's choice words for the crew behind G-Funk became a bit more heated also, as he claimed that his father "ain't even f**k with [y'all] like that on his last breath," which he spelled out in some shot-driven hashtags. He did shout out Snoop's Tha Dogg Pound partner, Kurupt, however, who he said has "kept it solid" since Nate's 2011 death. As for everyone else, he said, he doesn't want them to so much as speak his father's name if they continue to keep distance from the Hale family.

Apparently, there's a collection of unreleased Nate Dogg music in the vault too, which Naijiel said can't be released because the aforementioned folks are so far-removed that they don't have the permission to do so. "You n**gas are old losers and do that sh** for show and need to let it go!!" he said. "My daddy always talked about you n**gas [trying to] use him." Naijiel suggested that even in Nate's last stages before suffering from his death, brought on by his battle with multiple strokes, "them old n**gas" weren't there. The one time they did show up, he said, was when the "Nobody Does It Better" rapper was paralyzed from the stroke. "You n**gas ain't family," he said.

He concluded with one, last resentful message for the men…

"…And if Nate was alive they would be pissing in they boots if he knew the way they disrespecting his people," he wrote. "Karma real though, even I learned that…"