D'Mile Remembers His Late Mother and Answers If Lucky Daye Was an O.G. Member of Silk Sonic
The Oscar and Grammy Award-winning producer-songwriter also talks about how he manages self-care.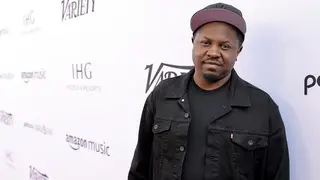 At only 37-years-old, Dernst "D'Mile" Emile II is a name that invokes smiles whenever heard across the entertainment landscape. However, outside of the industry, you may have actually run into this multiple award-winning talent at your local grocery store and not even known it.
Why, you wonder?

It is because someone as accomplished as him, has stayed relatively grounded despite the incredible run from being Ty Dolla $ign's go-to collaborator in the 2010s to becoming one of the busiest hitmakers in R&B today. Mentored by Rodney "Darkchild" Jenkins, D'Mile has won several of the biggest awards that a songwriter can ever hope to achieve in less than two years.

Three Grammy Awards, including Song of the Year and Record of the Year, for co-writing and producing Silk Sonic's #1 hit, "Leave the Door Open," and one for Song of the Year, for co-writing H.E.R.'s "I Can't Breathe," which was written following the killing of George Floyd. Add to that a win at the 2021 Academy Awards for Best Original Song for co-writing H.E.R.'s "Fight For You" for the film Judas and the Black Messiah, and it's nearly impossible to fathom that he didn't get to accept his first Grammy onstage due to then-COVID-19 protocols.
RELATED: How Black Music Saved The World: A Night of Excellence in Las Vegas

A classically trained musician who was inspired by his mother, Yanick Étienne, when he took the stage alongside Bruno Mars and Anderson . Paak at this year's Grammys, D'Mile took the moment to dedicate the award to his mother, who had passed away a few days prior to the show after a long battle with cancer. An influential vocalist in Haitian music, Étienne made her mark on the pop world as a backup singer on Roxy Music's "Avalon," and contributed to multiple solo albums by Bryan Ferry.
Like his mother, D'Mile has made his own impression in music and the R&B field. BET.com was able to get a chance to speak with the Brooklyn-born talent about honoring his mother, how he manages self-care in such a demanding industry, and answers a rumor about the origins of Silk Sonic.
This interview has been edited for length and clarity.
---
BET.com: We're in a great moment in music as R&B is in a great space with audiences having new stars to enjoy. It has made the game that much more enjoyable. You're a big part of that resurgence, so after experiencing these wins and these high moments — how do you decompress after it all?

D'Mile: That's a great starter question, man. I try to get away from everything and keep balance in my life. I'll sometimes work a bit after experiencing such highs, but other than that, I'll get away from it all. I like to say that I go into hiding after everything that's been going on, but in actuality, I'll be with my family or with my wife, and that will help me not focus on work so much.

BET.com: What has been one of your personal keys to success when it comes to checking in with yourself?

D'Mile: That's a good question, too [laughs]. I really don't know specifically. I talk to myself a lot [laughs], and I'll take my time to clear my head by doing that or add in a little bit of prayer. I still play video games, so I may get a game of [NBA] 2K in to get my mind off of things. Or I'll chill with my friends and not talk about music all of the time. We'll talk about other things that are a bit more personal and important to us.
For me, that's a great way to get away and not have everyone in your face every two seconds. The past two years, man, the type of attention that I've been getting is something I'm still getting used to, and it can be easy to forget how crazy things are going until it is too late. So, it is important not to fall victim to that. Also, no matter how fast life is moving, it is important to check on your friends and family as well. 
BET.com: Now, I happened to be there for Grammy Weekend, and many of my music friends were commenting on how you've managed to remain mysterious and unassuming despite all of your success. What does it mean to you to remain yourself and still be able to make global hits?

D'Mile: It means everything to me. I want to be as normal as I can be. I never want to be considered big-headed or held inside of a bubble where I'm not in tune with regular life. I know this business and industry can put you in places that you may not want to be but now are stuck in and can't get out of. I never want to lose what I was raised on or lose the principles I hold as important in my life.
BET.com: Speaking of conversations, you made a lot of us emotional after your win with Silk Sonic and shared your thoughts shortly after your mother had passed. What were those conversations like with family and friends after repeat wins at the Grammys?

D'Mile: Everyone was happy and in good spirits, making it all an interesting moment in my life because of the timing of my mom's passing. It was about [at the time of the interview] two weeks ago, but when I was on stage, we were all just having a mix of emotions. There was a moment at one point where everyone went from being family to being fans of what had just transpired. They wanted to take pictures and stuff like that.

My dad is super proud of me and very supportive, which my whole family is, but when it came to what sort of conversations were had — they were all just geeking out about me being on TV and stuff like that.
BET.com: What did you think your mother would've thought about your historic, clean sweep win at the Grammys and the one at the Oscars?

D'Mile: It would've meant so much. I can already hear her now, you know? Every time something great happens in my life, she would be like, 'More money, more money, more money.' [Laughs] I know she's just very excited and watching me. Last year, she was able to see me bring the Oscar and the Grammy home. And with this year's ceremony, she had just missed it.

But I told her that I was going to bring more before she actually passed. For it to happen the way that it did — to take home three more — felt like the timing of everything was just too divine. Part of me felt like she might've put a big in God's ear to share a good word. And when I went on stage with the guys, I didn't even know I was going to speak. As soon as Bruno saw me, we hugged, and he said, 'Yo, man. Say something about your mom,' and I had to dedicate it to her.

And that's what I did. I owe all of this [success] to her and my dad, but to especially her for this one. This [Grammy] is a special one for her.
BET.com: Now that the Award SZN has ended — is there any early word that you can share about the new Victoria Monét or India Shawn's records that you're working on?
D'Mile: For India [Shawn], we're pretty much done. They're going to gear up for release really soon, but I can't give you any dates from my side. I think she's coming out with another single that I did with her really soon, so look out for that. As far as Victoria [Monét] is concerned, I think that we're getting there. We're almost done, but there's still no word on exactly when it's going to come. Rest assured, though, it will be coming out really soon, and I think people will be happy with that as well.

BET.com: This next question was being discussed during the Grammys, and I must get some confirmation from you. Is there any truth to the story that Lucky Daye was originally going to be the third memory in Silk Sonic?

D'Mile: I wouldn't go as far as to say that, but Bruno and Lucky [Daye] know each other. And at the time when we were all hanging out for a bit, we were trying to figure out what things were before Silk Sonic, before anything [took place.] We never put anything out on wax and were mostly affiliated with each other in some way. I know that Bruno is a fan of Lucky and vice versa, so, even in the future, I would love for something to happen. Whether it's Silk Sonic and Lucky Daye or Bruno Mars and Lucky doing stuff together, who knows? 
BET.com: H.E.R. is another artist and friend with which you have great chemistry. Together, you both helped to redefine R&B for a new generation of music lovers. As someone who grew up enjoying all different types of sounds and genres — what message is in your music that you want listeners to take away whenever they press play on your records?

D'Mile: Really, it is just to enjoy whatever the music is to you, for whatever it is when you play it. There are so many different types of records out there that you can end up being pigeonholed on the radio, where audiences only listen to a certain kind of song. To be honest, there are just so many more sounds that are really incredible.
Like with H.E.R. and the "I Can't Breathe" record – that had a real message, which was a great message, but I think it is important to feel something within the message being presented. How I would sum up my answer, just as long as you feel something when you press play on me — or anybody else for that matter — just feel something. And hopefully, what's playing is something that moves you however the message speaks to you.
---
Kevin L. Clark is a screenwriter and entertainment director for BET Digital, who covers the intersection of music, film, pop culture, and social justice. Follow him on @KevitoClark.