Why Michaela Coel Shaved Her Head For Her Netflix Film & The Only Way She'll Play Nina Simone [EXCLUSIVE]
"I knew when I got this job I'm gonna shave my head and they're gonna have to make it work."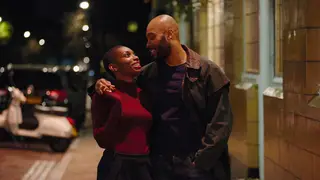 Michaela Coel sat in her chair struck dumb with gratitude. This past October 1st the newly minted 31-year-old was poised to blow out the candles on her birthday cake but skipped the wish part. In the moment, there was nothing that that two-time BAFTA and Royal Television Society Award winning actress, singer and poet really wanted.
"It was like when you're in a moment where there is nothing you need. I think ultimately, I realized my own wish was to have a sense of happiness and peace about my life," she says of her Libra season celebration. "You can lose sight of it when you're in the industry for a long time. You can forget how great your life is. And my life was great when I was sleeping in a car doing gigs for 30 pounds, which is maybe $40. That was my happiest so why am I less happy now? So, I looked at that all in my head and became as happy as I was then, now."
First appearing in two episodes of the popular "Top Boy" in 2013 and Monsters: Dark Continent in 2014, Coel became an "oh, that's HER!" face when her "Chewing Gum Dreams" play took off as a TV series in her native London before being picked up by Netflix in 2016. After two seasons of portraying the hilarious, libidinous virgin Tracey, Coel appeared in Star Wars: The Last Jedi and two episodes of sci-fi series "Black Mirror."
After jetting through space, she has come back down to Earth in the romantic musical Been So Long. In the modern-day love story directed by Tinge Krishnan, Coel plays Simone, a dedicated single mother who runs into a stranger named Raymond on the streets of Camden who challenges her expectations for love. Coel gets to stretch her singing and acting chops and, unlike poor Shania in "USS Callister," use her parts below the waist. She fought time zones and sketchy phone connections to talk with BET.com about the film, which is streaming on Netflix now.
So, what made you want to do a romantic musical like Been So long?
The driving force behind my desire to be in it was Che Walker, who is the writer. Che Walker is the reason I ended up as an actor in the first place. He saw me do a poem and he said you should be an actor. And he introduced me to Arinzé who plays Raymond. I also met Ronke, who plays Yvonne, through Uncle Che, that's what we call him, Uncle. I was really desperate to be a part of it because I know that I can honor his words, I can honor his ideas and I can honor him, because he gave me so much. I was a very big fan of the play, which I saw in 2009 about four or five times and saw this character Simone. Originally, I was to play Yvonne but I saw this romantic lead and I thought know what, when I was growing up I never saw no girls that looked like me doing romantic leads and being the apple of someone's eye and I thought I need to do this for the things I didn't have. Because there are loads more little girls like me looking for something on the screen that shows they can be vulnerable and they can love. So, I was pretty determined to do it.  And I knew when I get this job and I'm gonna shave my head and I'm going to turn up with no hair and they're gonna have to make it work. And they did.
So, you shaved your head before the audition?
No, I shaved my head after the audition. This was a week before we shot. I spoke to the head of hair and makeup, originally there were ideas about an afro or wearing flowers in her hair. And I said I don't wear flowers in my hair. Who wears flowers in their hair? And I said what do you think about me shaving my hair? And she was enticed. For the UK, it was radical but the only way we can get this done is if I called Kevin my hair stylist and said come to my house around 10pm and shave it. So, I turned up the next day with my lace wig, then took my lace wig off and to everyone's surprise there was no hair [laughs]. But everybody loved it. I had to make the leap to do it independently. 
I love that this was a conscious decision on your part. I think Black Panther was the first movie I'd seen with a darker skinned woman with short hair as a love interest. I'm guessing this was filmed maybe around the same time.
I'm not sure when BP was filmed but this was filmed in February of 2017. So probably before. I don't remember. But even with BP, And I remember going to the Black Panther after party and someone asked me to take a picture, because I have shaved hair. And I was like I'm not in this film. I don't want to fetishize the shaved head. I want it to be normalized. So, it's not "oh, how I iconic!" Like I'm a piece in Madame Tussaud's. I want it to be very normal that some women don't have hair. You're gonna have to look beyond a woman playing with her hair when she's flirting. You're going to have to look deeper than that and use your real eyes. Use your intuition to see the womanhood, the femininity in women who have chosen to shave their hair.
What makes your character Simone tick?
I think what makes her tick, anyone trying to crack her exterior, her guard, which is a guard of impenetrable independence and strength and survival. If anybody tries to access her heart, she becomes angry, even when it's her child, who is only 9 years old. She senses the vulnerability in her mom and she shuts it down. This is a problem that she has. This guard is so thick and it has formed because she has been rejected and abandoned. She hasn't received love. But by forming this thick guard it means that the one thing you crave, love, cannot enter. And this is her problem. She's had to build this survival attitude raising a child as a single mom, but then it's not leading her to happiness or peace. This is the basis and the heart of the character and the whole show. Every single character has built this exterior, whether it's being a liberal, hedonistic sexual being: "I'm so sexual it doesn't even matter about love." That's Yvonne. My exterior is anger because 'they took my love, they took my love' and really what you need is love.  Let love come in. That is what I see being echoed throughout the show.
There is a beautiful scene where Simone shares a kiss on a bench in a park. It looked like a postcard from Heaven. What can you tell me about filming it?
That took a lot of rehearsal because the kiss is sort of like a dance and a kiss at the same time.  It's beautiful because she said, 'I used to think this hill wasn't made for people like me.' And she's looking at nature and she was saying I didn't think peace was for me.  I wasn't supposed to be peaceful and relaxed in love. I wasn't supposed to be enjoying the peace of a being in a romantic situation. And everybody deserves that. Even in London, in Camden in the city, there is a shortage of trees and nature a shortage of peace. And you do feel like you're not supposed to have that. You're supposed to be on a train making things happen. Nature resting isn't for you and I think that's very important. That speaks to the heart of everyone from a marginalized community. You are nature. You're made of natural things. Peace is for you. Take it.
You've recorded two albums of poetry and singing, and performed the "Chewing Gum" theme song. What was it like getting back to that for Been So Long?
It was very, very difficult. Arinzé is an amazing singer and he was very supportive. I used to sing but I haven't sung in five or six years, so I was very nervous. I lost my voice about three times during the shoot. I think about Beyoncé and wonder how can you do that and your voice doesn't die? My voice died many, many times. But no one made me feel like I was a problem, but to be honest with you I was. It's all very vulnerable to sing in high pitches that you don't speak in. It's all very vulnerable but there is a lot going on in the world, people are vulnerable for real reasons. I was vulnerable because I had to sing. It's not that deep, just do it. They cast you for a reason. Let go of your ego and insecurity.
That said, would you consider playing Nina Simone in a film?
It's funny, I chose "Strange Fruit" by Nina Simone for my audition piece to drama School. And only after that people started saying 'you look like her' and then I looked at pictures and said, "Oh my God, I do." However, in all of that, would I? I watched the documentary What Happened To Miss Simone?' And I felt like that was an eye-opening three-dimensional portrayal of a legend. I've always had a connection to Nina Simone. But I respect her and her family so much that I would only do that if they were [asking] me to do it. I'm not gonna be looking to play Nina Simone as if she were a character and not a human being, a legend. A fragile legend gone before her time. When her daughter tells me, "I need you to go play Nina Simone," that's when I'll play her. Up and 'til then, Twitter and Instagram can tell me to go play Nina Simone, but you don't know Nina Simone. You don't know her, you're not related to her. It's her blood that's left on this planet that I will listen to. Until then it doesn't factor into my mind.