Not So Fast: Tommie Lee Arrested For A Second Time Hours After Being Released From Jail
The reality star is on a roll.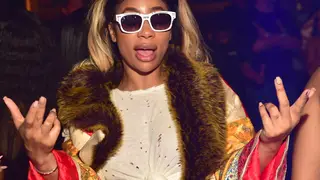 This week has proven to be a tough one for Love & Hip Hop: Atlanta star Tommie Lee, as it is now being reported that, following her release from being arrested on Tuesday, she was locked up again mere hours later.
As previously reported, Tommie was arrested on Tuesday after police stated she slammed her daughter's head into a locker and pulled her hair at Griffin Middle School in Smyrna, Georgia.
As a result of the attack, she was charged with felony aggravated assault, simple battery, first-degree child cruelty and disruption of public schools. She was, furthermore, legally ordered to avoid contact with her daughter, the victim of the attack.
According to theJamsineBRAND.com, after being released on $27,000 bond on Wednesday morning, the reality star is now back behind bars as, just three hours after being released, she called her daughter, violating the judge's order.
She is currently being held at the Cobb County Sheriff's Office without bail.