#Unboxed Vol. 16: UNIIQU3 Is Taking Jersey Club International While Helping Cultivate It Stateside
The Newark native recently discussed her new single and what it was like having Chloe Bailey sample her for one of the R&B singer's biggest hits.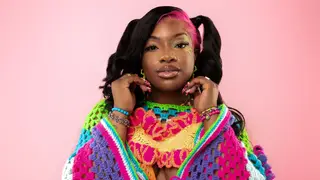 Regarding ambassadors of the Jersey club scene, you needn't look any further than UNIIQU3. Not only one of the music genre and culture's current influential faces, but she's also one of its pioneers – coming together with other contemporaries over two decades ago to incubate a scene that has reemerged nationally from the Garden State time and time again.
During that come-up, alongside luminaries like Jayhood and DJ Sliink, UNIIQU3 has been behind the 1s and 2s for quite a long time, throwing events like PBNJ, an annual block party that celebrates the culture while bringing the people of Philly, Baltimore, and New Jersey (hence the acronym) together to bask in the dance music they love. She's also the host of "club Queen Radio" on SiriusXM, where she brings the club genre to the world from her studio.
UNIIQU3 is also an accomplished producer who just released her new song and video for "Jersey club Movie," which samples Ashanti's "Movies" and features flirty and flippant lyrics paired with a quick, fiery beat and bouncing bass. That drop comes over four years after she dropped perhaps her seminal production with TT The Artist called "Girls Off The Chain," which Chloe Bailey eventually sampled for her hit "Have Mercy."
During a recent interview with BET, UNIIQU3 described how amazing it was that Chloe took her song and made it her own – thus furthering her mission of spreading Jersey club to the world. She also discussed her latest single, the tour she's been on and her history of being a club music ambassador.
BET: First, you released your single and video "Jersey club Movie" in late April. I love both the song and the video for it. What did the creative direction behind each of them entail?
UNIIQU3: You know, Jersey club is having a reemergence right now. This thing happens every few years, which solidifies it as being a timeless genre. With "Jersey club Movie," I just felt really inspired. I was on Instagram actually just skimming through photos and I saw SZA post a cute clip of herself and she was playing "Movies" by Ashanti. That's a song that I grew up on. It was very listen to it when you're thinking about a boy you like. And I was like, I should remix this. I remixed it and was like, You know what, I think I want to make this an actual thing. And that's when I got inspired and I wrote the lyrics, and I was like, It's called movies, I want to make a movie. I want this song to be a movie.
BET: I think it's a great example of how you can relay your ability as a producer and artist on a track. For you, what is it like taking on both of those roles?
UNIIQU3: Yeah, I feel like it's definitely a balance. Usually when I'm making the song I'll kind of have envisioned things – not to his totality, but just enough so that I could get inspiration of what I want to rap about or what I want to sing about. So yeah, usually the process starts off with just like inspiration.
I'll just sit with the song, maybe like in super rough demo mode and then I'll write my lyrics, I'll record them, and then when I record the lyrics, that's when I go back into production mode, and I chop them all up Jersey club style. That's what a lot of producers do. When you make Jersey club, like that authentic Jersey club sound, nine times out of 10, the producer produces the track, the artist then goes in the booth and they lay down whatever vocals they need to just kind of give it some arrangement. Then the producer goes back and they chop everything up to give  that dancey flavor and make it extra catchy. So that's what I did. It was just very back and forth with myself just hopping into each role I play.
BET: You are a major cultural player in Jersey club. How did you get into it initially over a decade ago and how have you seen it grow through the years?
UNIIQU3: Definitely, Jersey club I think is a little bit over 20 years old. It's definitely old enough to go to the club, I'll say that much. Um, I got into clubs super early, I was a teenager, and it was basically like the heartbeat of the city. Like it was the heartbeat of Newark, New Jersey, where the genre was birthed. And yeah, I was a dancer, I was doing ballet, so I was already into music. When I would take dance class, I would just chill downtown – the dance studio was by all the action, by all the shops, and all the buses. Basically anybody who had to go downtown to go wherever else, that's where I used to be chilling out before dance class started. I hear club music come out from the store fronts. I'm like, I need to buy the CD. So I bought a club CD, and then I took it to my homegirls and they were like, "Oh, you don't know? You do this dance to this song and this is club music, and we got this remix and they throw parties. You need to come to the parties."
So I would go to the parties and as I began the presence of being a sick dancer, I was getting the dance floor lit. They would always yell [my nickname back then] or they would put me on the speaker to do the dance and show everybody the dance move. It just evolved from that into wanting to be a DJ because I just didn't really see the presence of women behind the booth, just more on the dance floor. And I'm like, I feel like we need both.
BET: You came up in the scene with people like DJ Sliink, Jayhood, and others. How did you all find your style?
UNIIQU3: Yeah, a little bit of both I would say. I feel like a lot of my inspiration came from people that I listened to earlier on. I loved a lot of Janet Jackson, M.I.A., Missy Elliott, Ciara, who were already making very hybrid dance genres, but it's mainstream. So I feel like the inspiration was really just for that beyond taking our favorite top 40 hits and remixing them. Then also just learning like we can make our own tracks with our own voices and our own synths and our own sounds. So a lot of the music early on was very call-and-response. Very much like a cousin of hip-hop, very like adjacent to hip-hop, where you had the MCs and you had the DJ and you got the dancers. It's something about the East Coast – people talk a lot of s**t when they DJ on the East Coast. So we're always saying like, "You ain't dancing!"
And also with the influence that we have from Chicago house, Baltimore club, it just all tied in to just make it very eccentric, and I feel like it being youth driven, we just wanted to have that unison moment. It was very young. It was very dope.
BET: What was it like having "Girls Off The Chain," with TT the Artist, sampled by Chloe Bailey for her single "Have Mercy?"
UNIIQU3: Man, it was so crazy. First of all, shout out to Chloe and shout out to Murda Beatz, shout out to TT the Artist and Mighty Mark for all being a part of the process. That mixtape, in general, was just such a statement because in club music a lot of the different genres – like we have Philly club, we have Jersey club, and we have Baltimore – and we're all club cousins. But of course, there's healthy competition between all of us, and me and TT didn't want to have that. We didn't want no narratives between us, so we're gonna collaborate and we're gonna make a female driven club tape produced by us, written by us and it was just that. And we solidified ourselves as the club Queens. And for Chloe, another Black female in music who produces as well as writes her own music – I've been a fan of her before she went solo like when she was with her sister. It was really amazing to have her sample the song. I was like, Oh, this is way more intentional than just like having any person sample my song because I actually support her. I feel like we're definitely the same type of girl.
BET: You mentioned how important dancing is in Jersey club culture, so when you see someone cutting it up on the dancefloor or in the crowd, how does that make you feel as someone who creates and plays music?
UNIIQU3: So much. I pay attention to the crowd. My fans know this because I will comment on somebody's hair and they look [laughs]. "I see you with the green hair looking fly and s**t." But yeah, it means so much to me because they're feeling the music sonically. It's like a different type of connection. And then it's also cool because during my sets I also perform. – it's like a hybrid performance of DJing and rapping. I get on the mic, I say stuff, then I'm DJing and then I'll spin my song and then I'm just rapping over my tracks. So it's like a crazy energy exchange that I have with them and when I'm on the floor it just gasses me up and makes me want to go harder. It makes me dance too.
It means so much, especially if they learn the dances as well. I feel like the internet has brought so much visibility to Jersey club dance. It started on YouTube where everybody was doing line dances. Oou can look it up, it's so many throwbacks to videos of people just doing straight line dance call-and-response music videos. I had a few tunes called "When We Get Freaky." I was so young.
BET: You're headed out to Portugal later this week. How excited are you, and what are you expecting?
UNIIQU3: This is the second leg of my European tour that I'm on right now. I just did the first weekend and I still have a whole two weeks ago, which is crazy. So yeah I'm excited. European festivals have shown me so much love, it's been great to actually introduce a new audience to Jersey club in its authentic style and I'm flattered to be the chosen one to do so, especially because the Jersey club scene is predominantly male dominated right now. I'm one of the few women that are really holding it down and being an ambassador and taking it different places around the world. So it's been great to do that and connect with other people who are ambassadors of their city or their scene or their genre and make the ties and show mutual respect. Thank you for welcoming into your city, into your scene. So it's been really cool doing that. I like to meet with creatives that align with me and people that love dance music.