Prison Break Star Rips Body Shamers With Moving Facebook Post
Wentworth Miller puts the bullies and trolls on blast.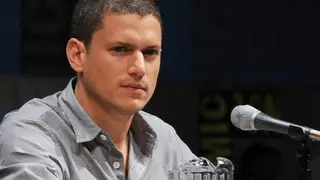 Wentworth Miller, the 43-year-old star of the hit TV show Prison Break, became the subject of an unfortunate Internet meme today when somebody posted a side-by-side of him at his trimmest with one of him after he had put on some weight following a hiatus from Hollywood to deal with his depression issues.
The photo is accompanied with the cruel caption, "When you break out of prison and find out about McDonald's monopoly." As a result of the joke, Miller opened up about his past battles with depression and admitted that it "hurt to breath" after he discovered that he was the butt of an online joke again. 
In a moving open letter, the actor took his body shamers to task by revealing that the "after" photo was taken at a time he was struggling with depression and suicidal thoughts. He said that food was his only crutch, and as a result he put on some weight. "Big f**king deal," he wrote. "Fighting for my mental health, [a cruel meme] was the last thing I needed." He went on to say that the image reminds him more of his "endurance and perseverance" than it does of a need to go on a diet. He then encouraged anyone struggling with depression to reach out for help.
Followers responded with caring messages and many shared stories of their own battle with depression.
LAD Bible, the social media news and media group who originally posted the meme, promptly apologized for their role in the body shaming. "We've got this very, very wrong," the group posted on their Facebook page. "Mental health is no joke or laughing matter. We certainly didn't want to cause you pain by reminding you of such a low point in your life. Causing distress and upset to innocent or vulnerable people is simply not acceptable." 
Wentworth has yet to respond to the apology but it seems that, at least for one day, those who feel victimized and attacked by social media don't have to feel alone. 
(Photo: Michael Buckner/Getty Images for Trevor Project)