In His Own Words: 50 Cent Tells The Story Of 'Get Rich or Die Tryin' 20 Years Later
The rapper details his ascension to stardom, creating the legendary LP and how it became a culture shift that helped usher in a new era in hip-hop.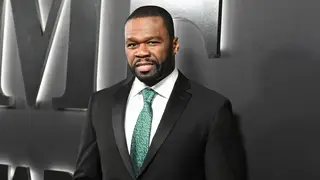 Two decades ago this week, 50 Cent released not only his magnum opus but an album that itself would become the mark of a seismic shift in the evolution of hip-hop between the 1990s and 2000s.
Get Rich or Die Tryin', Curtis Jackson III's official debut LP, was released on February 6, 2003 – just a few weeks after its debut single "In da Club" provided rap's biggest introduction to a solo artist, ironically, since Eminem's "My Name Is" four years earlier.
The 19-song effort, including three bonus tracks, relayed 50's trademark charisma, wit, and calculated usage of poignant, yet non-specific tales of street life to a vast audience that he describes was able to "go on a safari and not be hurt by the animals." But the prose to his songwriting, mixed with masterful production by Dr. Dre, came years before the album was officially in development. It also certainly wasn't 50's first project release.
The roots of 50 Cent's rapping career, much like his life, began in Queens when he met Jam Master Jay while trying to position himself as a mover and shaker in the eyes of the Run-D.M.C. co-founder. "I was hustling my way into a situation when I met Jay for the first time," 50 told BET during a recent interview. "There was a club called Bentley's in New York and I met him on his way into the club. At the time, I had a Kenny Anderson [New Jersey Nets] jersey on and at that point he thought I was Kenny because I pulled up in a [Mercedes] Benz. I was doing good but on the street side, and you know that don't last long. I was already looking at finding something else that I could do, and when he was telling me the stuff he's doing with his label, I really want to work."
Previously, 50 notes that he recorded raps in the basement of South Jamaica's DJ Roughandz's residence, which was just around the way from his. But the level of seriousness changed from when he describes spitting verses for "fun" in that basement in 1997 to after meeting Jam Master Jay and "getting myself in some s**t."
"[Jam Master Jay] gave me a tape and I went and wrote a song that was like a Mobb Deep record. When I say that, Prodigy and them rap so good that sometimes the chorus was a rap. They'd make it repetitive. It didn't have anything in it that would hook you in. It would just be the area where they doubled the vocals and you feel like this is the hook," 50 explains. "Like [Prodigy's debut solo album] H.N.I.C. – those records, they just made a statement during the hook."
But when it came time to hit the studio with Jay, it was the melody that the hip-hop legend required of his recent signee to JMJ Productions. In his eyes, at least for 50, choruses were to be multidimensional and have some refrain to them.
"He would use [a metronome]. Producers use it when they're aligning a track, but he turned it up in the studio so I could hear it, and he said, 'You see that? That's the end and whatever you said that repeats right there,'" 50 Cent describes, noting he used those lessons learned specifically on "P.I.M.P.". "I'd have to write two or three choruses before he would let me write the song because in his eyes anyone could rap. He gave me a habit of writing choruses more than once before I started the idea."
The lessons 50 Cent learned from Jam Master Jay were perhaps the most valuable asset he acquired from the hip-hop luminary, who was understandably tied up with Run-D.M.C.'s touring schedule at the time. This evolved into the Queens rapper's next home with Trackmasters and a subsequent streak of recording that would eventually land him his second official record deal. That signing didn't come until 50 could prove to the world he was the one.
"I recorded 36 records in 18 days and it was simple math for me. It was me having the ability to get Trackmaster production. I had Curt Gowdy, I had Al West, I had L.E.S., Tone and Poke, – all these guys were making hits for everybody," he recalls. "I wrote two songs every day and it was because I left [Bearsville Studios] saying I got 36 Trackmasters records – there's no way I'm not getting a record deal."
50 explains that Columbia, who signed him to a record deal in 1999, believed the songs he presented were from the album he planned to release under their imprint. Instead, he acknowledges they were effectively practicing for what was to come next, which was Power of the Dollar, a project that features a collaboration with Destiny's Child via "Thug Love" and heralded street singles like "Your Life's on the Line" and "Ghetto Qur'an (Forgive Me)".
But particularly, it featured "How To Rob" – a cut that imagines mugging a wide range of entertainers just a couple of years after hip-hop's most historic tragedy of losing Tupac Shakur and the Notorious B.I.G. within a six-month period occurred. 50 deployed some of the same bravado used by Pac while presenting his own unique showmanship, which included veiled threats at some of the biggest names in the music industry with the goal of moving covertly right into it.
"That was desperation. I was following Biggie and Tupac's situation and it was very rare to hear artists just say what they feel about each other," he explains years later. "They would subliminally say things to each other on the records but never actually mention the person while they were actually doing it. So, at that point at Columbia, if I didn't figure out how to generate interest I was going to be subjected to what was in the neighborhood. Everything that happened following that is something that happens in my neighborhood regardless. You got to look at that – even the part where I get shot – that s**t happens in South Jamaica [Queens] all the time or a version of it. So it was worth whatever would come behind it."
50 explains that the planned album wasn't conceptually what he wanted to do, but the themes he touched on would sprout up in his later work. It wouldn't be his lack of musical acumen that would change his professional situation, though. Just a week before he was set to shoot the video for "Thug Love", the rapper was shot nine times outside his grandmother's Queens home on May 24, 2000, which landed bullet wounds in his hand, arm, chest, leg, and left cheek.
While in the hospital recovering from his deadly wounds, 50 was dropped from his Columbia deal, turning him back into the streets and providing him with a renewed sense of hustle. During that time, he recorded mixtapes 50 Cent Is the Future, No Mercy, No Fear, and God's Plan, all of which featured Lloyd Banks and Tony Yayo from his newly-formed group G-Unit. But the one he created prior to all of those would be what caught Eminem's ear. According to 50, the Detroit rap legend heard his second project, Guess Who's Back, which sold 800,000 copies by way of Landspeed Records, and played it for Dr. Dre. The rest was history.
The first official single 50 Cent released after signing to Dre's Aftermath Records was "Wanksta", which became a second introduction of sorts – making wider rounds in clubs across the country and the rapper one everyone had their attention focused on.
"When we got to 'Wanksta', that record was organically connected. It actually was being picked up by radio, by radio DJs, without any make-sure assistance, there was no record company, nobody's saying play this—none of that s**t. Stretch Armstrong played it. The guys that were there at the time liked real hip-hop. And with no system in place it started playing on his own," he explains. "There actually was a point where [Shady Records president] Paul [Rosenberg] wanted to take 'Wanksta' off to put a record that me and Em did for the 8 Mile soundtrack on there, and I was like, Nah, just put that on 8 Mile. And that's what happened."
The excitement for what would become Get Rich or Die Tryin' began growing in the hip-hop world from the radio and relative club success. After Dre and Eminem had decided that whatever greatness 50 possessed outweighed any potential negative baggage he carried, they flew him out to Los Angeles for a five-day series of recording sessions that yielded seven songs, including "In da Club."
As the anticipation for 50 Cent's official major label debut album grew, he explains that the lyrical contents of the music he recorded had to be vivid in order to hook listeners in, but vague enough not to daunt them. His own real-life story provided the authenticity crucial to marrying these elements together.
"The difference was I had been in a life-threatening situation and that's what's changed conceptually," 50 says. "My music style heightened and intensified the presentation because it made it something that let's say the person who was a little further away from what was going on in the cities was able to go on a safari and not be hurt by the animals."
On January 7, 2003, 50 Cent, along with Shady Records and Aftermath Entertainment, released "In da Club", which became a massive hit instantly and shot the Queens rapper into worldwide stardom nearly overnight. But it was the balance between what would be presented just a few weeks later on GRODT that showcased the trio's true working brilliance. While 'In da Club" dominated the radio, songs like "Back Down" and "Many Men", which literally names the man 50 believes shot him three years later, fed the streets. Surprisingly, he notes 20 years later, the latter song wasn't even originally supposed to make the LP.
"That was the song on that album that I questioned whether we should put it there or not and Tony Yayo was like, 'Yo, you bugging'," 50 recalls. "Yayo was the reason that record was on Get Rich or Die Tryin' because the tempo was so much slower than everything else that was there. And I ended up keeping that record [on the album] because he liked it."
The same warry sentiments while putting the album together also lingered for the 4x platinum single "21 Questions", but for completely different reasons. According to 50, it was Dre, who took heed from his previous experiences creating with N.W.A., his own solo debut (The Chronic) Snoop Dogg (Doggystyle), Death Row Records and Eminem (The Slim Shady LP, The Marshall Mathers LP) that such a commercially targeted song wasn't necessary.
"In [Dr. Dre's] journey, he didn't need to make a record that sounded like it belonged on radio," he says. "He's like, 'You want this record? I don't know why you want it because being the hardest thing that's coming at that point, it was the [one song] that belonged maybe to the female audience – the idea of being able to fix [a flawed man]. So I wanted the record there and he was like, 'Alright.'"
Overall, Get Rich or Die Tryin' may have been the polished product of three of the greatest minds and ears hip-hop has ever produced, but the lyrical concepts behind what was put on wax 20 years ago isn't rocket science. Rather, it was the usage of simple concepts the masses could easily grasp and share among themselves.
"'Go shorty, it's ya birthday' – that's not rocket science. When people come with intentions to enjoy themselves, when [a woman] is going out with her girlfriends they go with the intention to have a good time and they take the shot that they wouldn't take but [their friends] go, 'Come on girl, it's your birthday,'" 50 explains. "I didn't realize it would stay relevant that long but we worded it that way but it's just what came out when I heard the production. The beauty of music when you're conditioned for it feels like magic because it's not hard work."
By the end of GRODT's first week on store shelves the record had sold 872,000 copies and debuted at Number 1 on the Billboard 200 chart. By the end of the year, it peddled more than 12 million copies worldwide and became the best-selling album of 2003. To this day, it remains 50 Cent's best-selling album.
But with all of the stellar sales numbers and impressive RIAA certifications Get Rich or Die Tryin' delivered, the album failed to earn him any hardware at the Grammy awards at the beginning of 2004. 50 says this was a message sent to him by the Recording Academy, which he believes didn't want to promote his street-inspired album to the youth.
"I've never received the accolades connected to the success of that project," he says. "Those songs that went 9x platinum – there's no 'Best Record' from the Grammys. The records that I do have awards from are collaboration records – and cool enough that those were originally for me. Like we ended up putting 'Crack A Bottle' on Em's joint and that was exciting. I got the trophy because I was next to Em. They were afraid to give me trophies with the performance of my material because they were afraid that the kids will actually want to be 50 Cent. I understood that so I concentrated more on the sales and the actual business side of it."
In the scope of hip-hop history Get Rich or Die Tryin' remains one of the biggest solo debut albums ever – and at the time – solidified 50 Cent as the culture's most lovable villain since Tupac. But the same bravado that took daunting shots at Ja Rule and Murda Ink on the LP, particularly on "Back Down", would later have the Queens rapper pitting himself commercially against an already-emerged Kanye West.
The LP in itself wasn't just an exceptional flash in the pan brought on by timing and circumstance. 50's sophomore album, 2005's The Massacre, and G-Unit group release, Beg For Mercy from later in 2003, had sold 1.15 million and 377,000 copies respectively during their first week on the charts. But by 2007, his lore had begun to become stale, especially after he pinned himself against West and his then-released LP Graduation while promoting his third album Curtis – promising that he'd quit rap if he sold less than the Chicago rapper.
But that's not to say that 50 Cent hasn't seen his immense influence of the early 2000s rub off onto other artists a decade or more later. He notes that he sees himself in the younger generations of rappers who followed him, including Chief Keef (whom he collaborated with on the 2012 smash hit "Hate Bein' Sober" with Wiz Khalifa) and Pop Smoke, who he met with prior to the Brooklyn rapper's tragic and untimely February 2020 death at the age of 20.
All of their stories, in his eyes, were reminiscent of his: a street hustler from Queens who employed rap to help him reach the boundless potential that has now landed him as an extraordinary entrepreneur and TV executive. Immersed in the alcohol business (with his Le Chemin du Roi champagne and Sire Spirits brands) and shows like BMF and the Power universe, 50 has helped create and produce some of the most watched on television.
Two decades later, 50 Cent has decided that a return to music is certainly in the cards, especially after correspondence he received from some old friends. Earlier this year, he revealed that he's working on new music with Dr. Dre, noting that the Shady/Aftermath family had reached out to him, letting him know they're ready to work.
If the new proposed effort is anything in the vain of what the trio came up with for Get Rich or Die Tryin', the process of making it will have to once again be magical.
"It was a pleasurable experience every time we got together because Dre would have pieces that he will play, and watch everybody in the room go crazy to it regardless," 50 tells BET. "I don't care who comes in the studio, they gon' be bobbing and weaving before they're done listening. And I would get to those things after I loosened him up a little bit because he'll give it to me, he don't care.
"It'd be a record that'll change your life and he'll say, 'Nah, I'll make another one.' That's really who he is," he adds. "There isn't two or three of him and he definitely separated himself from everyone else."
Listen to Get Rich or Die Tryin' below.