Look: Michelle Obama Will Run in 2020 if These Super Pacs Get Their Way. There's Just One Problem...
#ReadyForMichelle.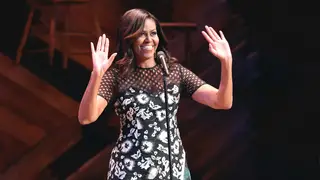 Three major political donor organizations are gearing up for Michelle Obama to run for president in 2020, reports The Hill. 
The first super PAC, Ready for Michelle, was formed by a Virginia federal government employee before the election results were announced. It filed its paperwork with the Federal Election Commission (FEC) on Oct. 31.
This super PAC could raise unlimited sums from donors.
Within the last two weeks, two other PACs promoting a Michelle Obama candidacy in 2020 have filed organization paperwork with the Federal Election Commission (FEC). One is called Ready for Michelle 2020 and the other is called Friends of Michelle 2020.
Although these PACs are hoping for Michelle Obama to throw her hat into the ring, there is one major problem: she has no desire to run for office.
In March of this year, Michelle weighed in on the topic at the South by Southwest festival in Austin, Texas.
"I will not run for president," she said to an audience, which sounded its disappointment. "No, nope, not going to do it."
That sentiment was confirmed by President Obama in his most recent interview with Rolling Stone.
However, Donald Garrett, founder of the Ready for Michelle super PAC, continues to hold out hope.
"I always believed that the politicians like to play coy publicly, but keep their options open," he told The Hill. "If you look at [Wisconsin Republican Rep.] Paul Ryan, when [former Speaker] John Boehner was resigning, he said, 'I don't want anything to do with the Speakership.' And then he changed his mind — and that's where he is now.
"Things in Washington change very quickly. … It's important to be there should the wind blow in your direction," Garrett told The Hill.