Eye of the Tiger: Blac Chyna Is Determined to Lose That Baby Weight
The model is already working on her snapback game.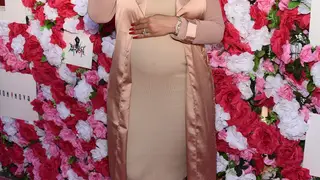 Blac Chyna just gave birth but she's already on the journey to that post-baby body.
According to Entertainment Tonight, the TV personality posted her weight loss progress to Snapchat and she's pretty stoked at how far she's gotten.
"From 192lbs to 177lbs (7 days postpartum). Goal 130lbs my starting weight b4 Dream," she wrote in the post. "I can't believe how flat my stomach is already!!!! Getting dressed tomorrow for the first time can't wait."
The reality star gained about 57 pounds during her pregnancy, but is wasting no time getting back in shape. She even posted a video of her new healthy diet.
"I'm about to get this body back right — rice, salmon, salad," she said in the video.
Also, to give herself that extra push, she posted a TBT photo of herself to Instagram, leaving little to the imagination. Take a look:
Watch how Rob and Blac have been making even more money from the birth of their daughter with BET Breaks, above.