A Tribe Called Quest Just Performed Their Final Show As A Group
Q-Tip broke the news to the crowd.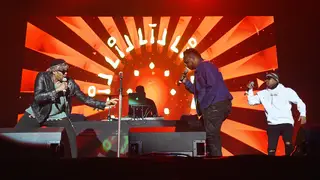 A Tribe Called Quest is ready to bow out for good and the disappointing news came from one of the group's members, Q-Tip, himself.
After hinting to fans back in July during the Panorama Festival that the group was in its final days, telling the crowd, "This is it as Tribe. We can't, you know... we gotta honor our brother Phife Dawg," Q-Tip kept his word.
The group took to the stage for the final time as a collective on Saturday night at Bestival in Dorset, England.
Mark Beaumont of NME caught a clip of Q-Tip breaking the news to the crowd during their performance of "Whateva Will Be."
"A Tribe Called Quest, we suffered a blow," he said in the middle of the set. "We lost our boy Phife Dawg. This is gonna be our last show as A Tribe Called Quest, ever."
Fans took to social media to share moments throughout the show, which proved to be nothing but a good time.
The Queens hip hop collective went 18 years without releasing an album while Q-Tip, Phife Dawg, Jerobi and Ali Shaheed Muhammad all took on solo efforts, following the release of 1998's The Love Movement.
They concluded their career-ending set with "Electric Relaxation" before leaving the crowd with a few memorable final words.
"27 years, thanks for all the support you've given us over the years," Q-Tip told the crowd." Phife Dawg!"
Take a look at a few more gems from the show, below:
Get more news on the legendary group with BET Breaks, above.