INTERVIEW: The Owners Of Kazmaleje And Undefined Beauty Open Up About Their Experience As Black Beauty Entrepreneurs
The winners of Shea Moisture's Future Black Millionaire Fund discuss their journeys to winning $100K in seed money.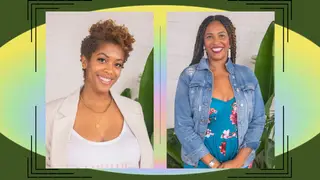 Being an entrepreneur is never easy, but Black entrepreneurs face even more adversity when raising seed money. Shea Moisture wanted to help Black founders close the wealth gap, so they started the Next Black Millionaire Fund contest. According to a press release, the fund is part of SheaMoisture's commitment to reinvesting in the Black community and aims to close the $11 trillion-dollar racial wealth gap.
The brand, alongside the New Voices Foundation, has chosen three winners who have received unprecedented support in their journey toward growing their businesses into million-dollar entities. Neil Hudson of Atlanta-based sauce brand Scotch Boyz, Latoya Stirrup of Miami haircare brand Kazmaleje pronounced cos-mol-ogy, and Dorian Morris of Los Angeles-based beauty brand Undefined Beauty have each received $100,000 in innovation seed capital. In addition to the funds, the recipients have access to executives who share their recipes for success, along with mentorship and coaching from the New Voices Foundation.
BET spoke with Black Beauty founders Latoya Stirrup of Kazamaleje and Dorian Morris of Undefined Beauty about their journey to winning the award.
Read the full interview below.
BET.com: Tell me about your brands; Latoya, you have a hair tools company, and Dorian, you own a clean skincare and wellness brand. Talk to me about the journey to winning the Black Millionaire Fund.
Latoya Stirrup: Kazmaleje is a company that I started with my two sisters to create innovative hair tools and accessories for the textured hair community. And we did it because we wanted to solve our own problem. The journey has been long but great. We did our interviewing and pitching and really got to talk about our perspective on
entrepreneurship and wealth building. After several rounds of pitching and interviews, we're here. The journey has been a long one but a good one.
Dorian Morris: Undefined Beauty is a clean beauty brand. So we take ancient plant wisdom that Mother Nature has blessed us with, and I pair it with actives that perform so you do not have compromised performance. I'm self-funded, so all of my investment to date has been through pitch competitions, actually. My first pitch competition was New Voices, and so it's come full circle.
BET.com: What made you want to start a beauty/haircare company?
Latoya Stirrup:  We were tired of long wash days, unnecessary breakage while detangling, and hair tools that just did not seem to work on our textured hair. And so what we did is that we adapted the idea of finger detangling into the tools. So when you look at the teeth on our hair tools, they're shaped like your fingers, meaning that they're round, they're smooth, and they're long and conical in shape. So when you're combing through your hair, you're getting a very similar combing experience without the snagging and the popping that you get with other hair tools. 
Dorian Morris: I want to continue reinforcing this whole story of democratizing beauty. I want clean beauty to be more accessible so that people can get high-quality products and a reasonable price point. My R and R collection is focused on adaptogenic mushrooms. They basically are stressed modulators, and so they allow for better balance in your skin. And everything is under $30.
BET.com: What have you ladies learned throughout this process that you wish you had known when you first started your business?
Dorian Morris: I would say it's just the power of relationships. I'm a strong believer that iron sharpens iron, and I'm constantly giving and getting with my community of founders because I'm a team of one. I like having an ecosystem of founders that have been through this before me so that they can give me advice. I think the access to just immense brain power and different perspectives has been invaluable.
Latoya Stirrup: Entrepreneurship isn't something that you have a roadmap for. It's not something that you can literally set out and be like, 'I'm going to achieve these goals by this date.' You can set them, but know that that journey is gonna wind. You're gonna have ups and downs, and you really have to know your purpose and know that you started on this journey because you wanted to solve a problem. A lot of us come into this because we're trying to solve our own problems, whether it's skincare, hair care, or beauty. We all come to this experience because there was a hole in the gap in the market, and we wanted to fill it with our ideas. So know that there's power in that and continue to move forward regardless of what's happening.
BET.com: Raising capital as an entrepreneur isn't easy. So, what is one thing you're able to do now that you have won the award that you weren't necessarily able to do before?
Latoya Stirrup: The grant money will be a fantastic catalyst for our business because we just launched in Target stores earlier this year. So having access to capital to really infuse into the business will give us the opportunity to level up our marketing and spend more in terms of product innovation. Because as you get into retail, you have to constantly come out with new products. So that takes money too. And you know, when you think about the idea of entrepreneurship, people make it look glamorous on Instagram, and there's a lot that goes into that, especially for those of us who are bootstrapping. We've been doing it on our own for so long that we have become very scrappy. And so to now have some cash, that one you don't necessarily have to pay back like a loan, and you didn't have to give up equity for, is powerful.
Dorian Morris: I haven't actually invested in marketing yet, so everything, all of my growth, has been organic, and so this money will give me the fuel to actually Feed the Beast. So I can get brand awareness and then also help from a velocity standpoint because, you know, with retail, it's tricky. Getting in the door is not the hardest part. Staying in the door is.
BET.com: Where can our readers find your products?
Latoya Stirrup: We are online, in 240 Target stores nationwide and select beauty supply stores.
Dorian Morris: Undefined Beauty can be found in 285 Target stores nationwide, Whole Foods, and The Vitamin Shoppe.
This interview has been edited and condensed for clarity.