Amerie's New Children's Book 'You Will Do Great Things' Teaches Kids About The Power of Dreaming Big
Inspired by her toddler son, the R&B singer-songwriter is pivoting her passion for creative writing from music to fiction.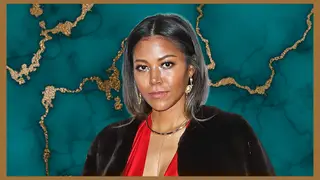 Amerie has been booked, busy, and blessed.
The Grammy-nominated R&B singer-songwriter and producer, known for her hit songs, "1 Thing" and "Why Don't We Fall in Love," recently added children's author to her long list of accomplishments.
The star chatted with us in preparation for the launch of her new book, You Will Do Great Things. The story is described as a young boy's imaginative journey that helps him form deep connections with his multicultural heritage and the ancestors.
Amerie says her book is dedicated to all the little ones in the world with colorful imaginations, especially her 4-year-old son, River.
"River is so excited about the book," Amerie tells BET.com exclusively. "He knows that the little boy is inspired by him; the main character is symbolically wearing one of River's outfits from top to bottom.  I wrote the story because I wanted him to hear a special message."
The book is Amerie's opportunity to return to her first love: writing. As an English major in college, she always imagined becoming a published author and had thoughts of even becoming a professor, but music took center stage. She further explains to BET.com why she has chosen to focus her creativity on the children's book genre, how motherhood has changed her, and why she representing her Black and Korean cultures in the book was a no-brainer.
BET.com: You're a Grammy-nominated singer, songwriter, and producer. Why did you decide to add "children's author" to your curriculum vitae?
Amerie: I always wanted to write a picture book, but I also wanted to wait until I had a child because I knew that at that time I'd truly know what I wanted to say. I was right.
BET.com: We love it! So let's talk about the inspiration behind your book, You Will Do Great Things.
Amerie: You Will Do Great Things is about all the love, hopes, and dreams that we hold for our children. It is what I wanted to say when I was holding my infant son. It is everything that I wanted him to see in a book's pages, including our family's background, which is Korean and African-American.
BET.com: What a beautiful tribute to your son. How do you want children to feel after reading this book?
Amerie: I want kids to know that in their hearts they hold all the power of their own dreams, their parent's dreams, and the dreams of their ancestors. I want them to know that they are capable of anything. I want them to know that they are filled with possibilities. I want them to know they can dare to dream.
I also want them to know that, although life isn't always easy, all they need to succeed resides within them. If they are still, they will hear that voice of guidance.
BET.com: We love the message that you are sharing with the readers. So what do you love about being a mom?
Amerie: I love having him in my life! I love being able to wake up to his beautiful, shining  face every day. One thing we never get back is time. I love the idea of making every moment special, so I try to be as present as possible and keep my phone away. What I love most about him is being able to see life in a new way through his eyes.
BET.com:  What do you love most about your mother-son bond?
Amerie: He is incredibly intelligent and articulate, which makes it easier to communicate and have a deep conversation about things like the meaning of life, love, and the importance of gratitude. Of course, he's still a four-year-old at the end of the day, so it's important to remember that too.
BET.com:  It seems like River is quite the little guy. How has being a mom changed your life?
Amerie: I've become much more empathetic. In short, I understand more what it truly means to love a stranger, to love each person, and to see that every individual is precious, important, and special.
BET.com: Agreed. So why is it important for you to tell stories where the main character is a person of color?
Amerie: I wanted my son to hear a heartfelt, powerful message about life and the amazing journey it is. I also wanted him to see himself reflected in the book's pages. When I was a child, no one said that someone who looks like me doesn't belong in the pages of a book, but I didn't see myself. I didn't realize until later in life that I had internalized that message of exclusion.
As a result, in the first stories that I wrote throughout my childhood, I didn't include anyone who looked like me because it just didn't occur to me that I should be there. A lot has changed since then, but we could always have more stories representing everyone.
BET.com: Yes, representation is so appreciated. So, how do your African American and Korean cultures play a role in the stories you tell?
Amerie: I like to include African-American and Korean characters in my stories because I'd love to see more representation across the board — from baby and picture books to stories written for adults.
There are an infinite number of stories that could exist, and the idea of bringing in the richness of the African diaspora and Korean culture, as well as American culture, excites me.
BET.com: How closely did you work with the illustrator to capture your vision? What was that experience like?
Amerie: I worked closely with my editorial team — led by Connie Hsu — to capture the vision of the book. Raissa Figueroa brought her vision as an illustrator.
There were great bursts of creativity regarding what the general approach to the book would be, whether it would be more grounded and day in the life or something more fantastical.
BET.com: The book is amazing and very colorful! You also have a book club. Tell us about it.
Amerie: I founded Amerie's Book Club because I wanted to share so many of the great reads I was coming across.  We aim to share books that offer diverse perspectives and unique voices. Sharing great books is one of my greatest pleasures, and I love to amplify an artist's work.
BET.com: What other books have piqued your interest for 2023?
---
Editor's Note: This story/interview has been edited and condensed for clarity.