The White House Welcomes Holler If You Hear Me: Black and Gay in the Church for Black History Month
Clay Cane's groundbreaking documentary will screen on February 24.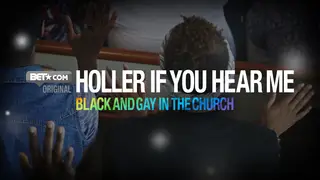 BET Networks is honored to announce that the BET.com original documentary Holler if You Hear Me: Black and Gay in the Church, directed and written by Clay Cane, will be screened at the White House on February 24.
The film will be part of a Black History Month event highlighting the LGBTQ community and will include opening remarks by Clay Cane. Also, the event will include a panel discussion featuring Cane and moderated by David Johns.
"Having Holler If You Hear Me: Black and Gay in the Church at the White House for Black History Month is beyond a dream come true — it's something I never could have dreamed of," says Cane. "From the beginning, my intent was to give voice to the voiceless, to share the stories and truths of people who were silenced. For the voices of these LGBTQ black folks to be heard at 1600 Pennsylvania Ave is incredible. I am so thankful for this opportunity."
In addition, Holler If You Hear Me will be featured at Outfest in Los Angeles, the largest LGBT film festival in the world (http://www.outfest.org/newfest/). Click here for details. 
A BET.com digital exclusive, Holler If You Hear Me has also been nominated for a GLAAD Media Award for Outstanding Digital Journalism. If you haven't yet seen this powerful documentary, you can watch it in full, below:
BET.com is your No. 1 source for Black celebrity news, photos, exclusive videos and all the latest in the world of hip hop and R&B music.