Watch Jordyn Woods Get Revealed In 'The Masked Singer' After Being Eliminated In Smackdown Round
"I felt like this was an opportunity for people to see a different side of me," Woods said.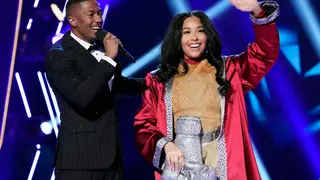 Many people suspected Jordyn Woods was the Kangaroo in The Masked Singer and that was confirmed last night. The 23-year-old was eliminated and the show revealed that she was indeed the costumed character. 
Woods said after the elimination, "I love this show. Number one, I watch it every week with my family. But I just love a challenge. I felt like this was an opportunity for people to see a different side of me that not even I knew existed."