Kodak Black Released From Jail Following Florida Arrest
He posted $75,000 bond.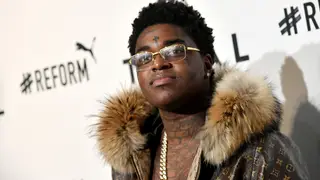 Kodak Black got off to a rough start this past weekend, but was able to finagle his way out of trouble.
According to TMZ, the "Super Gremlin" rapper was arrested in Florida on Friday (July 15) and booked into a Broward County jail on two felony drug charges: possession of a controlled substance without prescription and trafficking oxycodone.
Cops say after pulling the 25-year-old rapper over, they smelled marijuana. The strong marijuana odor led to a search of the Dodge Durango SUV, where officers claim they found 31 oxycodone pills and $74,960 in cash.
Ironically, Kodak's bond was $75,000.
TMZ reports that Kodak's license and tags were also expired.
Kodak's lawyer, Bradford Cohen, informed TMZ to "never judge a case based on an arrest. There are facts and circumstances that give rise to a defense, especially in this case. We negotiated a bond of $75,000 and we will move forward with resolving this matter quickly."
Among Kodak's law troubles, his most notable was his 46-month prison sentence in 2019 for falsifying data on federal forms to purchase firearms. In 2021, then-President Donald Trump commuted Kodak's sentence during his last day in office.
It's been a tumultuous year for Kodak. In February, the rapper was shot during a fight that occurred outside of a Justin Bieber afterparty in L.A. He was taken to a nearby hospital in stable condition with non-life threatening gunshot wounds.
Creatively, Kodak played a significant role in Kendrick Lamar's cohesive 2022 album, Mr. Morale & The Big Steppers, being featured in the introduction of a song, an interlude and feature verse.