Northwestern University Football Players Allowed to Unionize
National Labor Relations Board ruling says athletes should be treated as school employees.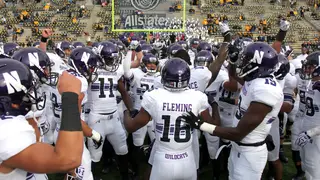 In what could turn out to be one of the more historic decisions in college athletics, the National Labor Relations Board ruled Wednesday that college athletes at Northwestern University qualify as employees under U.S. law, according to NBC Chicago.
The decision brings Northwestern University football players that much closer to creating the nation's first union for college athletes — something the university and the players don't all see eye to eye on.
"So proud of my teammates, Ramogi, lawyers, and supporters around the nation! This is a HUGE win for ALL college athletes!" tweeted Northwestern quarterback Kain Colter after learning of the board's decision.
Colter, who founded College Athlete's Players Association, [CAPA] also sits on the association's board of directors along with former UCLA player Ramogi Huma and former college basketball player Luke Bonner. The group created a petiton in January, which was signed by thousands of student-athletes and caught the attention of the labor board.

Alan K. Cubbage, who is a spokesperson for Northwestern University, disagrees with Colter's stance and expressed his disappointment in the decision, noting that the University considers its athletic participants students above all else.
"While we respect the [National Labor Relations Board] process and the regional director's opinion we disagree with it," said Cubbage. "Northwestern believes strongly that our student-athletes are not employees, but students. Unionization and collective bargaining are not the appropriate methods to address the concerns raised by student-athletes," he added.
CAPA says the new union will "challenge the treatment of players under the current pay-for-play system for college athletes," citing a court case in which the NCAA declared it had no legal duty or responsibility to protect college athletes from injuries.

BET Sports News - Get the latest news and information about African-Americans in sports including weekly recaps, celebrity news and photos of your favorite Black athletes. Click here to subscribe to our newsletter.

(Photo: Matthew Holst/Getty Images)