George Floyd: Ex-Officer Thomas Lane Gets 2.5 Year Sentence On Federal Charge
Lane was convicted in February after failing to offer Floyd medical assistance Derek Chauvin suffocated him in May 2020.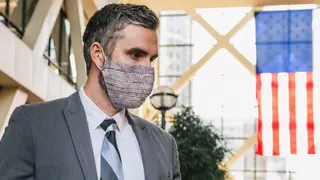 A disgraced former Minneapolis cop was sentenced to two-and-a-half years in prison for his part in the tragic May 2020 death of George Floyd on Thursday (July 21).
According to the Associated Press, U.S. District Judge Paul Magnuson issued the punishment to Thomas Lane after he was convicted of a civil rights charge alleging that the former cop denied Floyd medical assistance as former Minneapolis police officer Derek Chauvin used his knee to subdue the 46-year-old man, subsequently killing him.
"Mr. Lane, this is a very serious offense in which a life was lost," Magnuson said, addressing Lane as he handed down the sentence. "The fact that you did not get up and remove Mr. Chauvin when Mr. Floyd became unconscious is a violation of the law."
Federal prosecutors initially sought a. six-and-a-half year sentence, which is in line with federal guidelines. Lane's lawyers asked the sentence to be reduced to a little over two years, arguing he was the least culpable of the officers partially because he asked his colleagues twice whether Floyd should be turned on his side.
Lane declined to comment as he left the court. He also didn't speak at the hearing. The federal magistrate ordered him to surrender to U.S. Marshals on October 4.
George Floyd's killing in Minneapolis sparked a nationwide protest after Chauvin knelt on his neck for more than eight minutes as Lane, along with fellow officers Tou Thao and J Alexander Kueng. The trio was arrested and charged with aiding and abetting and second-degree manslaughter.