T-Pain Will Go Up Against Lil Jon For The Next Instagram Live Battle, And The Internet Is Torn
"Lil Jon birthed a genre of music and T-Pain birthed a sound of music, both which are still relative in music today so it's gon' be tough…"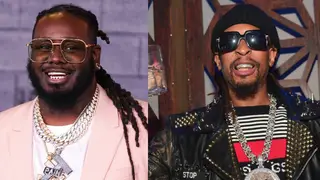 Singing-songwriting-rapping-producing marvel T-Pain hit the top of the internet's hot topics beside superproducer Scott Storch amid an originally planned IG Live battle between the two. 
But, after some further consideration, there was a last-minute change of plans from Timbaland and Swizz Beatz to match Scott up with New Orleans-bred soundboard beast Mannie Fresh. Consequently, fans took up the issue of the swap-out with T-Pain. "Bro. I was ready. Dub or L, I stand behind my s**t. Tim and Swizz hit me and said they were lookin' at comments and came to the fact that producer vs songwriter just doesn't make sense. I didn't back out lol. I was ready to have fun on Live, s**t," he clarified on Twitter, assuring fans that his turn was coming soon.

Following Mannie and Scott's face-off, Swizz shared a scorecard on his Instagram page, and it appears Scott emerged victorious from his battle against Mannie. "Score card from the people!!" Swizz announced. "Thank you [Scott Storch] & [Mannie Fresh] for doing it for the people at home aka the culture! We also hit 202k tonight. Scott won tonight but so did the culture! [Timbaland], it's a wrap." Moments later, both Timb and Swizz returned to Instagram where they unveiled who was up next. It's T-Pain versus the King of Crunk himself, Lil Jon.

"New paper work just in for this [Saturday] 9 PM EST. [T-Pain] VERZUZ [Lil Jon]. It's going to be a real showdown, [Timbaland]," Swizz announced. "Who you got winning?"

T-Pain and Lil Jon will each have 20 tracks in their head-to-head battle. Unlike T-Pain's previous match-up with Scott, the Twitterverse is stumped over picking who will take the crown for the approaching match. 

"Lil Jon birthed a genre of music and T-Pain birthed a sound of music, both which are still relative in music today so it's gon' be tough," one person noted on Twitter. 

See what the e-streets are saying ahead of Saturday's face-off between T-Pain and Lil Jon.