Black Music Month: 8 Music Videos That Changed Everything
From Michael Jackson's "Billie Jean" to Kendrick Lamar's "Humble," we've compiled a short list of visuals that make us love music even more.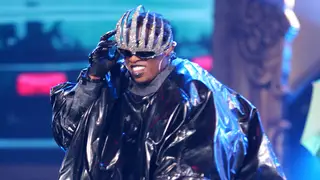 Today, as it's been the case for decades, music videos reinforce our love for our favorite tunes – sometimes making it even hard to listen to them without the amazing visual aid.
From Video Music Box to BET and MTV to now YouTube and more, the playing of music videos has evolved, however, it's hard to think of a time when creativity was lacking.
In honor of Black Music Month, we've compiled eight music videos that changed the music landscape upon their premiere. See them below (in no particular order).
Janet Jackson: "Rhythm Nation" (1989)

Before Beyoncé, Janet Jackson was getting folks into formation, and perhaps the best example of this was the singer's song/video "Rhythm Nation." Who could forget her moonwalking through that steel mill with sheer militance. Let's just say it got people's attention.

Missy Elliott: "The Rain (Supa Dupa Fly)" (1997)

In her first video collaboration with Hype Williams, the rapper extraordinaire and legendary director struck gold with "The Rain (Supa Dupa Fly)." It could be argued that Missy's videos are as impactful of her greatness as her music is, and there's no better example of this than her donning that black trash-bag-adjacent inflated jumpsuit through the fisheye lens. The video also has a slew of cameos, including appearances from Da Brat, Diddy and Lil Kim.

Michael Jackson: "Billie Jean" (1983)

It's an understatement to label Michael Jackson as a visual artist. As the most incredible solo performer ever, his ability to deploy flawless choreography, including that famous moonwalk, is essential to fully understanding his preeminence. "Billie Jean" was the video that put it all together for the fans at home. The visual was considered edgy at the time, which likely helped it become an overnight sensation for MTV's 1983 rotation.

50 Cent: "In Da Club" (2003)

For many fans of 50 Cent, "In Da Club" was where it all started for them. The mega-hit was accompanied by the perfect visual, which featured the Queens rapper swinging upside down while rapping. New York had stepped out during the early 2000s, but Fif, Get Rich or Die Tryin' and "In Da Club" had the Big Apple making a strong return.

Wu-Tang Clan (feat. Cappadonna): "Triumph" (1997)

At the time of Wu-Tang Clan's premiere of "Triumph" in 1997, they had spent more than any artist or group in music history on the video. Former Loud Records CEO Steve Rifkind has noted on multiple occasions that the label and Staten Island collective had forked over $1 million to produce the visual. While the video is lovely and outdated technology-wise in today's standard, back then, watching Inspectah Deck run down the side of a skyscraper to catch Ol' Dirty Bastard was amazing over 25 years ago.

Jay-Z: "99 Problems" (2003)

Perhaps Hov's most bleak video ever, "99 Problems," features a dramatization of him getting murdered during a shootout that was so shocking MTV had to run a censored version of it with a disclaimer discouraging gun imagery in videos. That didn't stop the network, or others, from running it constantly during the early 2000s.

Kendrick Lamar: "Humble" (2017)

There are quite a few Kendrick Lamar videos one could choose for this list, but we went with "Humble" because it's perhaps when K Dot was arguably both at his peak musically and video-wise as DAMN. had one of the best visual runs an album has had in the last decade. The multifaceted nature of "Humble" mixed with its incredibly staged shots and scenes make it immensely memorable and inspirational.

Beyoncé: "Formation" (2016)

What is there to say? It's "Formation," and it's Beyoncé. Even the reaction had the world turned on its head as Bey drew inspiration from the words of Toni Morrison and Maya Angelou to make an unapologetically Black visual that provided profound commentary on significant moments in America's Black history. It was also released during the first week of Black History Month in 2016, again showing off that legendary thoughtfulness and planning Beyoncé is known for using.