Too Much? Amber Rose Slammed for 'Suggestive' Photo With Her Son
See the pic that has some people flipping.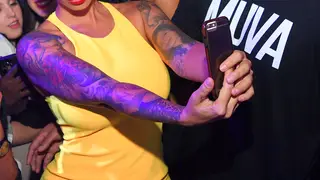 Amber Rose is wrapped up in another scandal, but this time, it involves her toddler son.
According to the Daily Mail, the model sent social media into a frenzy when she made a Snapchat post of her suggestively licking an ice-cream cone which her 3-year-old, Sebastian, was holding.
The publication, which cited Amber as "a good example of a star who has pushed the limits when it comes to online images," continued, "Making things even more uncomfortable was the fact that it was her three-year-old son — who she had with rapper ex Wiz Khalifa — who was holding up the cone to his mother's mouth."
Whatever.  Not everyone found the post to be inappropriate, though. Most folks on social media seemed to be OK with it. What really caught their attention, it seems, was baby Bash's cuteness.
Amber has also been making the news for her divorce from Wiz Khalifa, which seemed to have gone much better than anyone could have imagined. Get the deets with BET Breaks, above.