'GMA's' T.J. Holmes' Real Name Trends On Twitter After Alleged Cheating Scandal Unfolds, And It Serves As A Reminder That Black Folks Are The G.O.A.T.
Loutelious Holmes, Jr. is the gift that keeps on giving on Black Twitter.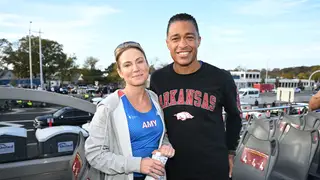 Amid the alleged cheating scandal between hosts TJ Holmes and Amy Robach that has rocked Good Morning America, a new detail has emerged that sent Black Twitter into a frenzy.
Holmes' government name came to light on November 30, and Twitter clowned. The Arkansas native's real name is Loutelious Holmes, Jr.
Here are the best tweets.
News of the alleged affair busted the internet wide open.
On November 30, the ish hit the fan after photos of Holmes getting handsy with Robach surfaced on the web. The 45-year-old GMA host was caught on camera with his co-host having not-so-platonic moments.
Although sources say that the alleged relationship began this summer after the couple separated from their respective spouses, a former guest on the show had a different opinion as told to Sis2Sis.
"I could not put my finger on what was happening, but I felt I was being interviewed on two different shows. TJ was engaging, and we had a good rapport, but Amy was distant and seemed uninterested in the segment. It was giving a jealous girlfriend vibe. I thought I was reading too much into the situation, but now that this has all come up, I guess my instincts were correct."