[Exclusive] Young M.A on What Inspired Her to Be Out and Proud
The rapper celebrates LGBT Pride Month with BET.com.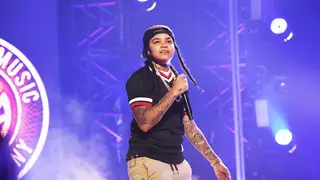 Since her meteoric rise in hip-hop, YOUNG M.A has been writing all her own rules. The first openly lesbian rapper to break the Top 20 on the Billboard charts, with her infectious hit "OOOUUU," M.A introduced the world to her authentic self and never looked back.
In celebration of LGBT History Month, BET.com sat down with the 25-year-old, rule-breaking rhymer to learn more about her coming-out story, and what gives her so much confidence.
"When I was a kid I didn't really know who was like that," M.A said of her sexuality. "I thought I was the only one in the world like that. I ain't understand that as a kid. I inspired myself to come out... I just got to a point where I couldn't hold it in no more, and I didn't care about the consequences."
When asked what it's like to be the only openly lesbian rapper to achieve a a top 20 spot on the Billboard 100, M.A replied, "I mean, it's dope. I ain't going to lie, every now and then I say something like, 'I'm the first dyke rapper to do it.' You know what I mean, all slick talk, but in reality I try not to think about the label thing as much, man, because I just genuinely love music, and I feel like all people, we should all just be people at the end of the day, you know what I mean? There shouldn't be no labels behind everything."
When asked what LGBT pride means to her, M.A simply said, "Lit. Lit, you know what I mean? Even straight people party with us, they know how we get down, man." The rapper adds, "I love pride. I love all pride, pride is a good time, its fun, it's exciting, it means a lot to me... It's basically let people know, 'You know we're here. We ain't going nowhere, we're proud of who we are.' But at the end of the day, you know what I mean, we're all people, man. We're all people. Pride is just about having pride in yourself, and feeling good about yourself and what you represent."
Watch our full interview with Young M.A, above.