Lenny Kravitz Brings Back Signature Scarf in His First TikTok Post
The rocker and fashion icon poked fun at the viral accessory on social media.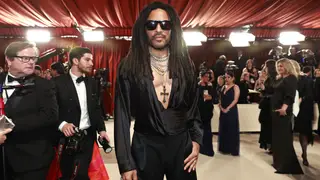 Never let it be said that Lenny Kravitz takes himself too seriously.
In his very first TikTok post, the legendary rocker pulled out his viral scarf from 2012 to kick off the first day of autumn.
"Grab your big scarf," Kravitz said in the five-second clip. "It's the first day of fall."
The video has already racked up more than half a million views.
The 59-year-old rocker also posted a picture of himself wearing the scarf on X (formerly Twitter). He captioned the photo "Scarf 2.0."
The massive scarf first went viral in 2012 when Kravitz was photographed wearing it while out running errands. He later explained the reasoning for wearing the gigantic accessory in California.
"I live in the Bahamas, I'm used to hot weather and I had to go to the store, I was buying some groceries and I thought I'd put on a little scarf to protect my throat, and that's the scarf I had," Kravitz said on The Tonight Show with Jimmy Fallon.
"But Lenny, this is not a scarf, it's a blanket!" Fallon responded.
"That was the day I thought I would break it out, and I had no idea that there would be paparazzi and that is now everything," Kravitz said.
The scarf went on to become a popular meme with social media users.
In a May 2023 interview, Kravitz talked about his late mother, "The Jeffersons"' star Roxie Roker, whom he said supported his taste in clothing. "One thing about my mother, she never judged anybody. She just loved," per PEOPLE.
Last year, Kravitz received the Fashion Icon Award at the 2022 CFDA Awards. For the honor, he wore leather pants, a wool blazer with cutouts and a feather boa by LaQuan Smith.
"I reached out to LaQuan after admiring his work for some time and we met in person just a couple of days ago to vibe out," Kravitz told VOGUE. "We had instant chemistry…I love his vision and look forward to working together into the future. The fact that I'm the first to wear creations he has made for men is an honor."