Sweet Revenge: Did Karrueche Hook Up With Rihanna's Ex?
She's certainly sending a message with this photo.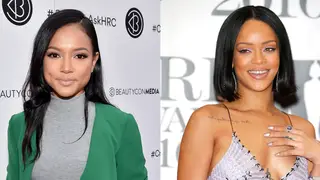 Karrueche had her heart broken by Rihanna and Chris Brown years ago, but is she having the last laugh? 
Looks like the model and designer found herself a new man — one who used to date RiRi. Kae took a photo with Travi$ Scott at New York Fashion Week, and some are saying it's pretty clear from her body language what she's trying to tell us.
The look on Karrueche's face (and her pose) says it all.
While this isn't exactly a "steal your man" situation considering Rihanna is currently loved up with Drake, it certainly comes close. However, we are sure Rihanna is unbothered!
Get a sneak peek of Karrueche in her latest film role, in the indie drama Only for One Night, above.