Chris Brown's Drama With Karrueche Has Hit a New Level of Scary
The singer has to make a huge change.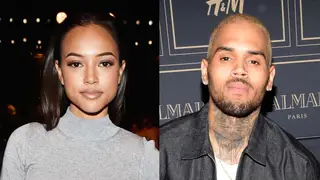 Karrueche Tran highlighted in the restraining order documents made against her ex-boyfriend Chris Brown that he was coming after her best friend. Now it seems that she can breathe a sigh of relief as the singer has reportedly been ordered to stay away from him as well.
According to TMZ, the model's BFF, Joseph Ryan La Cour, said he has been receiving severe threats from Breezy because he stands up for Karrueche while she tries to keep the singer away from her and move on with her life.
La Cour said in the court documents that Brown made physical threats to both him and the model, saying no matter where they go "he will find us and shoot the place up."
He even highlighted a specific instance at Diddy's Super Bowl party where he explained that Brown got in his face and threatened him, saying, "It's 2017... I'ma f**k you up every time I see you, so you better get the f**k out of here before I lay your a** out."
He continued, saying the singer's violence extended to another female member of Karrueche's friend circle, whom he allegedly threw a drink at before saying, "Move, b***h, we aren't friends."
La Cour also claimed the singer sent guys after him and he also believes he is gang-affiliated as he said they threw around the word "blood."
The court ordered Brown to stay at least a football field away from La Cour and to stop harassing him.
Take a look at how Twitter reacted to the drama below:
Get the latest on the former couple in the BET Breaks video above.