NeNe Leakes Just Ruined Her Comedy Career, Tells Heckler 'I Hope Your Uber Driver Rapes You'
SMH.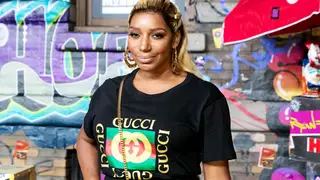 NeNe Leakes is known for her unapologetically crass tone, especially when it comes to her stand up comedy persona, but some say she took things a bit farther than needed when she wished rape on a heckler at a recent standup gig in Oakland.
It all went down after the Real Housewives of Atlanta star delivered a joke about Uber drivers attempting to have sex with their female passengers. After it seemed to fall flat, someone from the audience booed loudly and it seemed to catch the attention of the starlet.
Singling out the heckler, NeNe then went in.
"I ain't even gonna tell you about the got damn Uber driver," she said. "I hope he rapes your a*S tonight when he take you home, b***h... And steal your funky hello kitty, b***h."
Take a look at the exchange, below:
Did the reality star go to far? Well, she seems to think so. NeNe issued an apology. See below: 
Get more NeNe news with BET Breaks, above.