#BringBackOurGirls: 500 Days Later, the Chibok Girls Are Still Missing
Rep. Frederica Wilson wants to take over Twitter with messages of hope and peace.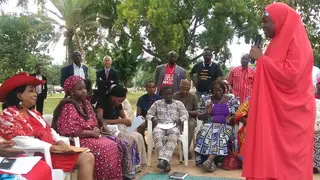 I ask America to join me in creating a Twitter storm to commemorate the 500 days of mystery surrounding the missing Chibok schoolgirls. Tweet messages of hope and peace. Tweet prayers, pictures of remembrance, blessings for the families and words of consolation for everyone involved.
Tweet all day long. Tweet whenever you think about it. Tweet, tweet, tweet. The more we tweet the more pressure there will be to return the girls to safety.
During my first visit to Nigeria last June, I was inspired by the Nigerian "Bring Back Our Girls" movement and the courage displayed by the activists and the girls' families, who have spent each and every one of the past 500 days making sure their girls are not forgotten. Their constancy and faith have been galvanizing. That is why I promised to lead the effort to #BringBackOurGirls in the United States.
The Chibok girls' abduction has helped Nigeria learn important lessons about the power of democracy and diplomacy. Frustrated by the indifference and inaction of former President Goodluck Johnathan, Nigerian voters elected a new leader — Muhammadu Buhari, the nation's third democratically elected head of state, who has made the defeat of Boko Haram his new administration's top priority.
During my second visit to Nigeria earlier this month, I urged the West African nation's citizens to hold President Buhari and other elected and military officials to their word. Just as the world must not forget the Chibok girls, these officials must never forget what they were hired to do: find the girls, defeat Boko Haram, rebuild the communities the group has decimated. They must also create economic and educational opportunities for the young Nigerians who are tempted by the terrorist group's lure because they feel they have no other options.
"Pressure, Pressure, Pressure," was my mantra to Nigerian voters.
President Buhari, with whom I met during my time there, really gets it. We had discussions about replicating the 5000 Role Models of Excellence Project in Nigeria to target young boys at risk.
In addition to making youth employment "a cardinal objective" of his administration, in a bold move, he has given Nigeria's military a three-month deadline to put an end to Boko Haram and its reign of terror. The good news is that his generals will not have to do this on their own. The Nigerian leader has met with the heads of the border nations Cameroon, Benin, Niger and Chad, and encouraged them to put their political differences aside. Led by the Nigerian head of a new Multinational Joint Task Force, the nations' troops can literally box Boko Haram in and prevent the insurgents from crossing boundaries to avoid escape and more important, expand their reach. President Buhari recently announced plans to hire at least 10,000 new police officers to boost domestic security.
The United Nations also joined in the fight to defeat Boko Haram. This week U.N. Secretary General Ban Ki Moon visited Nigeria and pledged the international organization's solidarity and support to counter extremism and terrorism. French President Francois Hollande also has offered to organize an international meeting to examine ways to defeat Boko Haram.
The whole world has been moved by the Chibok girls' fate, the U.N. secretary general noted, but there are still so many people who are unaware of their abduction and, sadly, many more who simply do not care.
In addition to the big steps President Buhari and others are taking to shut these terrorists down, social media can be a powerful tool. So, each day, remember to tweet, tweet, tweet #JoinRepWilson so we can #BringBackOurGirls.
Congresswoman Frederica S. Wilson is a third-term Congresswoman from Florida representing parts of Northern Miami-Dade and Southeast Broward counties. A former state legislator and school principal, she is the founder of the 5000 Role Models for Excellence Project, a mentoring program for young males at risk of dropping out of school. Congresswoman Wilson also founded the Florida Ports Caucus, a bipartisan task force that coordinates federal action in support of Florida's harbors and waterways.
The opinions expressed here do not necessarily reflect those of BET Networks.
BET National News - Keep up to date with breaking news stories from around the nation, including headlines from the hip hop and entertainment world.
Click here to enter the #LookYourSundayBest contest for a chance to win FREE natural hair-care products. 
(Photo: Courtesy of Office of Rep. Frederica S. Wilson)