Swizz Beatz in Legal Battle With Universal Music Over Megaupload
Swizz Beatz has been named in a lawsuit filed against the file sharing company.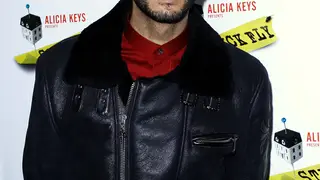 Swizz Beatz has found himself in a legal fight with Universal Music Group thanks to a video he helped make promoting the file sharing and storage website Megaupload.
Beatz, who is the CEO of the online company, recruited his buddies Kanye West, Diddy and Will.i.am to appear in the video, which went viral late last year. Those artists are signed to Universal, and the record label was none-too-pleased to have them affiliated with Megaupload, which is widely known to host illegal copies of recorded albums.
After suing Beatz and Megaupload to take down the video, UMG has since been counter-sued by the music mogul, who insists he did nothing wrong, according to MTV News.
In addition to the aforementioned stars, the controversial video includes a slew of cameos from the likes of Chris Brown, Snoop Dogg, Mary J. Blige, Kim Kardashian, Serena Williams, Alicia Keys, Lil Jon, Macy Gray and Game. Watch it below.
BET.com is your #1 source for Black celebrity news, photos, exclusive videos and all the latest in the world of hip hop and R&B music.
(Photo: Donna Ward/Getty Images)