Halle Berry Slays At 55, Expresses Gratitude
Find out what she's grateful for on her birthday.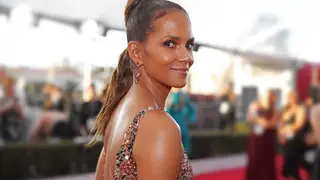 As Halle Berry celebrated an important milestone in her life, she opened up on social media about finding internal and external peace. 
On the morning of her 55th birthday (August 14), the actress posted a video of her newfound peace on Instagram. 
"After the year we've all had, my heart is full as I'm grateful to see this August 14th. In the midst of the storm, I've managed to create happiness, find more peace, and feel more free than ever! Finally, I'm exhaling!" she captioned the post. "Thank you vanO for my b-day serenade."
Berry is seen in the passenger seat of a car, windows down, hair blowing and her eyes closed, while the song "Smoke Gets In Your Eyes" by The Platters plays in the background of the IG post. 
When it comes to the extent of her gratitude on this birthday, she points toward 51-year-old musician, Van Hunt. The two made their relationship public nearly a year ago. "Now ya know," Berry wrote on a social media caption, wearing a t-shirt with Van's name on it. 
Hunt took to his Instagram to wish his girlfriend a happy birthday. 
In March, Hunt told ET News that Berry is the muse for "everything I do… I could show you rather than I could tell you, and I will show you really soon, I promise. ...The inspiration for our relationship goes across everything, even in my parenting. I'm a completely different person, I can say it like that, and I think that it's improved every aspect of my life."
For Hunt's birthday in March, Berry said, "A real woman can do it all by herself, but a real MAN won't let her. Happy birthday VanO. I only wish I'd known you sooner so I could have loved you longer!