Hennessy Carolina Gives Her Girlfriend A Twerking Lapdance Ahead Of Valentine's Day
Plus, see the other LGBTQ+ couples who don't mind showing PDA!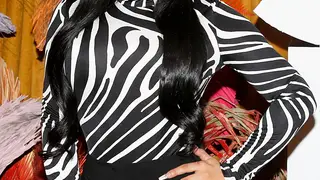 Valentine's Day has arrived, and it's the perfect time for couples to display their love for one another. Whether they are splurging on uber-expensive gifts or just showing PDA.
For heterosexual couples, holding hands with a partner or kissing in public isn't a milestone, but in the LGBTQ+ community, such a seemingly simple act of love can carry much more weight.
Same-sex couples get harassed and continue to have even suffered homophobic attacks. But through it all, their love shines. 
So, this Valentine's Day, we want to highlight same-sex couples who don't mind sharing affection for one another in some of the most fun and quirky ways. 
RuPaul and his husband, Georges shared the sweetest dance on the red-carpet while receiving his Hollywood walk of fame, and Billy Porter and his beau have the same taste in over-the-top style. 
See some of our favorite LGBTQ+ couples who put their love on display 24/7. 
Hennessy Carolina and Michelle share the cutest twerk dance session.

Rupaul and his fabulous husband, Georges LeBar share a congratulatory kiss on the hollywood walk of fame.

A sweet courtside cuddle between Samira Wiley, and wife Lauren Morelli at a New York Knicks game.

Wanda Sykes, and her wife, Alex Sykes twin in matching black suits on the red carpet.

Billy Porter and his husband, Adam Porter Smith share the same love for over-the-top fashion.

Robin Roberts and Amber Laign hold on to each other while walking the red carpet together.

Karamo Brown and Bobby Berk share a dance at the Vanity Fair Oscars After Party.