Colin Kaepernick To Fund Independent Autopsy For Man 'Eaten Alive' In Atlanta Jail
Lashawn Thompson was placed in a cell that was not even 'fit for a diseased animal,' his family's lawyer says.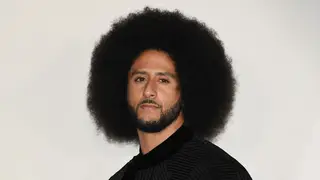 Former NFL quarterback Colin Kaepernick, whose criminal justice activism includes funding autopsies, agreed to cover the cost of an independent reexamination of Lashawn Thompson's death in September 2022 from insect bites in an Atlanta jail.
"We want to thank Colin Kaepernick for helping [Thompson's] family get to the truth," civil rights attorney Ben Crump, co-counsel for Thompson's family, said Thursday (April 20) at a rally outside the Fulton County, Ga. jail where Thompson died, The Washington Post reported.
Police arrested Thompson, who was reportedly schizophrenic, on June 12, 2022 for a misdemeanor simple battery charge and was taken to the Fulton County Jail, according to Atlanta station WAGA. He was later transferred to the psychiatric wing of the jail. Three months later, he was found dead in his cell, which one of his family's attorneys said was filthy and "not fit for a diseased animal." Records showed that jail officials noticed but ignored Thompson's deteriorating health.
A report by the Fulton County medical examiner's office said Thompson, 35, had an infestation of small insects on his body but his cause of death was undetermined.
The family's legal team, which includes Atlanta attorney Michael Harper, plans to file a lawsuit.
He said Thompson was "eaten alive" by insects and bed bugs in an April 12 news release, according to The Post.
"As soon as we get the results of that independent autopsy, we're going to come right back here and let people know," Crump said Thursday.
Kaepernick launched an initiative in 2022 to conduct secondary autopsies in "police-related" deaths through his Know Your Rights Camp, the Associated Press reported. Autopsies are performed by a panel of board-certified forensic pathologists.
Three Fulton County jail officials recently resigned from their job amid an investigation into Thompson's death, CNN reported. Their resignations came after Harper called for accountability.
"The cell he was in was not fit for a diseased animal. This is inexcusable and it's deplorable,"  the attorney said at a news conference prior to the jail officials stepping down.